AFuzion's ARP-4754A Training Classes Chosen by Five Major Aviation Companies Worldwide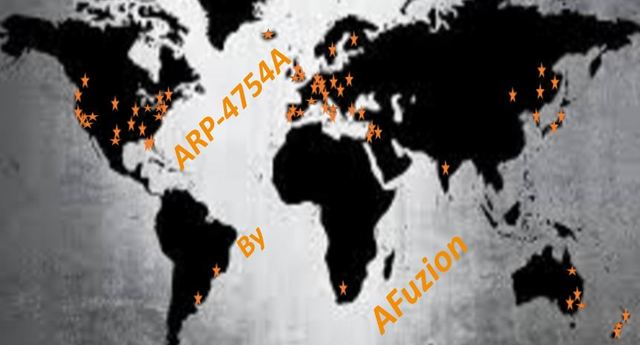 (PRLEAP.COM) November 29, 2016 - Afuzion Incorporated's new "ARP-4754A Training: Understanding & Applying Avionics Systems Development & Certification" was chosen by five top worldwide aviation companies in 2016. Four additional companies in Europe, Middle East, and Asia have selected AFuzion to provide advanced ARP-4754A training workshops in 2017.
AFuzion's new ARP-4754A training complements the world's most popular DO-178C training first developed by AFuzion's founder in 1994 and provided to 9,500 engineers and managers in forty countries. ARP-4754A is the ubiquitous "Guideline" (Standard) applicable to virtually all avionics systems today. Taken alone, ARP-4754A seems to describe basic systems engineering processes for developing consistently reliable avionics. However, ARP-4754A's oblique descriptions and lack of context contribute to significant misunderstandings of its true intent and application. More information on AFuzion's ARP-4754A Training Classes can be found here:
AFuzion ARP-4754A Training Class Details
By the principal author of the world's best-selling book on avionics certification, this updated ARP-4754A training applies techniques which over 9,500 avionics engineers have learned and applied worldwide. Available in onsite 2-day or 3-day (with workshop) formats, this ARP-4754A training emphasizes real-world, hands on ARP4754A training with practical examples and ARP-4754A best practices. Attendees learn the real meaning of complying with ARP-4754A and how ARP-4754A relates to ARP-4761 Safety and DO-178C for software and DO-254 for hardware. Attendees also learn ARP-4754A common mistakes and how to avoid them. Practical ARP-4754A examples are provided in this ARP4754A training class by Afuzion Incorporated.
Worldwide companies have already procured this very ARP-4754A training from AFuzion including companies in Japan, China, Australia, Turkey, Brazil, Europe, and the USA. AFuzion's founder Vance Hilderman also the author of the most popular technical whitepaper on ARP-4754A, filled with ARP-4754A Facts & Tips. All ARP-4754A attendees may receive a free copy of this whitepaper plus three years of free updates and access to Afuzion's large collection of Avionics Technical Whitepapers, principally written or edited by Vance Hilderman. To download a free copy of this ARP-4754A Facts & Information Whitepaper, download here:
ARP-4754A Technical Whitepaper Info Free
Specific ARP-4754A Training topics include:
What is ARP-4754A's relationship to ARP-4761, the System Safety guideline?
What is its relationship to DO-178C, DO-254, DO-297, DO-160, TSO's, PMA's, and TC's?
How is ARP-4754A applied to military systems versus commercial avionics?
What are the top ten common ARP-4754A mistakes, and how can they be avoided?
How to re-use (leverage) existing systems engineering processes and artifacts in ARP-4754A?
What are ARP-4754A System Requirements, Derived Requirements & Requirements Validation?
What is ARP-4754A System Design and Architecture and how to specify?
What is ARP-4754A Verification, via Reviews, Tests, and Analysis?
What is ARP-4754A Configuration Management requirements?
What is required for ARP-4754A Quality Assurance?
How can ARP-4754A costs be minimized?
How can System, Software, and Hardware development and verification be best integrated?
What are the true thresholds and criteria for ARP-4754A acceptance?
What are the Best Practices for ARP-4754A?
How can ARP-4754A audits be passed the first time?
States Mr. Chris Jackson, Afuzion co-founder, "As an attorney and business jet owner/pilot, I know all about risk, reward, and the corresponding trade-offs. While I don't understand the intricacies as well as Mr. Hilderman, I particularly like the ARP-4754A training content on ARP-4754A cost reduction and best practices." If you are building modern avionics, it is imperative to understand and deploy efficiently focused ARP-4754A concepts. Welcome to Afuzion's ARP-4754A Training Workshop More information on ARP-4754A Training is available on Afuzion's website at
www.afuzion.com