Lee Feldman, Gina Browne, and Alicia Olivares Awarded 2017 Super Lawyer Designations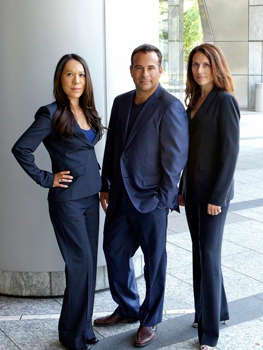 (PRLEAP.COM) January 11, 2017 - Leading Employment Attorney, Lee Feldman, has been named a Southern California Super Lawyer for eleven (11) consecutive years. Gina Browne has also been named a Super Lawyer or Rising Star for eleven (11) consecutive years. And Partner Alicia Olivares has been named a Super Lawyer for six (6) consecutive years.
The Superlawyers.com rating service looks at candidates from over 70 different legal practice areas throughout the US. Super Lawyers selects attorneys using a patented multi-phase selection process, and the candidates are selected through a combination of independent research, peer evaluations, plus peer nominations. The Super Lawyer distinction is limited to the top 5% of attorneys.
Additionally, Mr. Feldman and Ms. Olivares were once again named to the list of the Best Lawyers in America for 2017 by Woodward & White. Best Lawyers is the preeminent legal rating organization. Bestlawyers.com creates and maintains lists of outstanding Attorneys, which are compiled by conducting exhaustive peer review surveys, in which tens of thousands of leading Lawyers confidentially evaluate their professional peers. If the votes for an Attorney are positive enough for recognition in Best Lawyers, that Attorney must maintain those votes in subsequent polls to remain in each edition.
Lee Feldman is the founding partner of the Feldman Law Firm, the predecessor of Feldman Browne Olivares, and senior partner of Feldman Browne Olivares, APC. Mr. Feldman formed the Feldman Law Firm in 1998, a firm devoted exclusively to protecting the rights of workers and obtaining compensation for harms caused by their employers. In each of the last four (4) years (2013-2016), Mr. Feldman has been named to the Daily Journal's list of the top Labor and Employment Lawyers in California. Only 15-25 lawyers representing workers are typically named to this list each year.
The firm has since evolved into one of the top labor and employment law firms in the state of California. In 2014-2017, the Feldman Browne Olivares firm was ranked at the top of the U.S. News & World Report's listing of the Best Law Firms in America, earning the highest recognition, a "Tier 1" rating in each of the past four (4) years.
Lee Feldman attended Emory University and received his B.A. in 1986, later attending Boston University School of Law, graduating in 1991. Known for his hard-hitting, aggressive litigation, Lee Feldman has been practicing law for almost 20 years.
Ms. Browne, who was named a Southern California Super Lawyer from 2013, 2014, 2015, 2016 and again in 2017, attended Loyola Marymount University, graduating magna cum laude in 1993. Gina Browne graduated Loyola Law School in 2003. In 2013, Gina Browne was named a Top California Labor & Employment Lawyer, by the Daily Journal.
Ms. Olivares was named a Southern California Super Lawyer in 2012, 2013, 2014, 2015, 2016 and in 2017, by the publishers Los Angeles Magazine. Alicia Olivares received her B.A. from Cal State Northridge, later attending Loyola Law School, graduating in 1995.
Feldman Browne Olivares specializes in wrongful termination, medical leave cases, disability cases, class action lawsuits, and overtime/meal break law, and has recovered over 200 million dollars in verdicts, settlements, and arbitration awards recovered on behalf of California workers, including eighteen (18) seven-figure verdicts or settlements since 2012.
For more information, visit
http://leefeldmanlaw.com/
or call (800) 350-0454.
Email Feldman Browne Olivares