Girard Bengali, APC Attorneys Named to Super Lawyers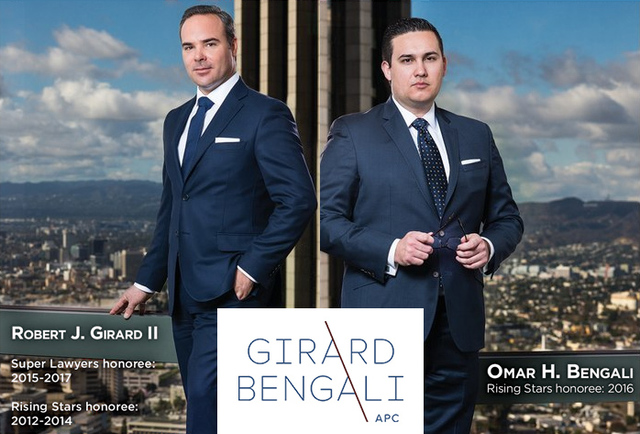 (PRLEAP.COM) Los Angeles, California, March 29, 2017 - Robert J. Girard II and Omar H. Bengali, founding partners of Girard Bengali, APC, have once again been recognized by their peers for their professional accomplishments. Mr. Girard has been selected for inclusion in the 2017 list of Super Lawyers, a designation given to no more than five percent of the lawyers in California. This is Mr. Girard's third time being named a Super Lawyer. He was previously named a Rising Star for three straight years. Mr. Bengali has been selected for inclusion in the 2017 list of Southern California Rising Stars by Super Lawyers, a designation earned by less than 2.5% of attorneys under the age of 40. This is Mr. Bengali's second time receiving this honor.
"I am thrilled to have been designated a Super Lawyer for the third straight year. I feel truly honored," said founding partner Robert Girard. He added, "I am also proud of Omar's receipt of the designation of Super Lawyer Rising Star for the second year in a row. It is a privilege to be recognized by our peers for our work in securities and employment litigation."
Girard Bengali, APC, a firm specializing in securities arbitration, employment and business litigation, is pleased to announce the launch of their completely redesigned law firm website. It features a fresh, cutting-edge design, user-friendly navigation, and up-to-date information. Created to be user-friendly, the website can be viewed on smartphones, tablets, and other mobile devices without a loss of functionality. Interactive features include detailed information about the attorneys and practice areas, an online contact form, social media links, and a news feed with the latest updates about the firm.
Girard Bengali represents investors and victims of investment fraud and brokerage firm misconduct in securities litigation in both state and federal courts, as well as in securities arbitrations before FINRA and other forums. The firm has a growing practice representing victims of elder financial abuse, and investigates and pursues claims involving a broad range of financial and investment products, such as stocks, bonds, options, exchange-traded funds (ETFs), private placements, mutual funds, hedge funds, variable annuities, derivatives, and commodities.
Girard Bengali is one of the few firms on the West Coast that represents financial advisors and securities industry professionals in employment-related disputes against the major broker-dealer firms. Girard Bengali's employment practice extends well beyond the securities arena. The firm regularly represents and counsels a diverse client base ranging from individuals to established companies. Moreover, the firm regularly appears on behalf of its clients in state and federal court and at administrative proceedings before the Department of Fair Employment and Housing (DFEH), Equal Employment Opportunity Commission (EEOC), Department of Labor (DOL), and similar agencies.
ABOUT ROBERT J. GIRARD II
Robert J. Girard II, a founding partner of Girard Bengali, APC, has more than 15 years of experience in the areas of securities litigation, securities arbitration and employment disputes. He represents clients in Los Angeles, California, and throughout the state. Mr. Girard advocates for institutional and individual investors in their legal disputes. He has recovered millions of dollars on behalf of his clients from a majority of the biggest Wall Street brokerages. He also represents securities professionals in their employment disputes with broker-dealer firms. His representative matters have included wrongful termination cases, unfair business practices claims and FINRA regulatory matters. In one case, Mr. Girard secured a $3.7 million arbitration award against a FINRA member in California on behalf of individual brokers.
ABOUT OMAR H. BENGALI
Omar H. Bengali is a Founding Partner of Girard Bengali. Mr. Bengali's primary practice areas include labor and employment litigation and securities arbitration. Mr. Bengali began his career representing a wide array of companies in state and federal court. Having founded Girard Bengali, he now specializes in representing executives, employees and small to mid-size companies with all aspects of employment law. Mr. Bengali's employment practice extends into the securities arena, including the representation of financial professionals against broker-dealer firms in FINRA arbitrations, as well as successfully counseling clients through FINRA regulatory and enforcement inquiries.
ABOUT SUPER LAWYERS
Super Lawyers is a rating service of outstanding lawyers from more than 70 practice areas who have attained a high degree of peer recognition and professional achievement. The annual selections are made using a patented multiphase process that includes a statewide survey of lawyers, an independent research evaluation of candidates and peer reviews by practice area. The result is a credible, comprehensive and diverse listing of exceptional attorneys. The Super Lawyers lists are published nationwide in Super Lawyers Magazines and in leading city and regional magazines and newspapers across the country.
For more information, please visit
http://girardbengali.com
or call (323) 302-8300.
Email Girard Bengali, APC