Emerging Abstract Oil Painter Headlines an Art Exhibition at the Bonita Museum in San Diego County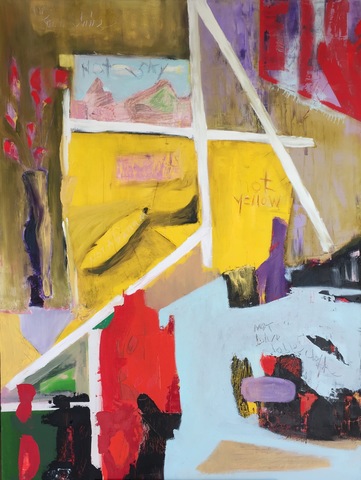 (PRLEAP.COM) May 5, 2017 - When asked about her series elusively titled "999" Amanda shares this, "My art is an expression of my journey towards inner peace and acceptance. I'm very interested in what emotions look like. The series title '999' came to me as an idea about self determination and bold energy and that vision has held this series together while I traveled around the world on a journey of self discovery and connection during the past year. Then I would come home to my studio to record the experiences and unravel the mysteries with my medium of oil paint. My mantra while working this series was 'Resist Nothing.'"
In this new series of paintings, Saint Claire's talent forces us immediately to engage with her unique style of embracing colors, line, and texture and for those who chose to go deeper, to experience the universal messages that unite us as humans.
In this series Saint Claire employs the traditional mediums of oil and charcoal on wooden panels in creating the unconventional. Not quite pure abstraction but also lacking in traditional conveyances of rendering, Saint Claire seems to defy labels and that obviously delights her. As is the case with many artists, her work is informed by the world around her, except Amanda's world during this year has been spent not only in San Diego's beautiful North County but also in Western Pennsylvania, Northern and Central California, Southern Florida, Singapore, Cambodia, Malaysia, Nepal, and India.
Amanda Saint Claire was born outside of Pittsburgh, PA in the small blighted steel town of Aliquippa. The first in her family to attend college she graduated with a B.A. from Dickinson College and went on to earn her J.D. from Tulane School of Law, New Orleans, LA in 1998.
Saint Claire studied abroad in Germany, Poland, and Greece in High School, College and Law School and always considered herself a citizen of the world and she continued to live across the globe after joining the U.S. Navy as a JAGC officer and marrying her husband, a scientist currently on active duty serving currently on assignment in Cambodia with the U.S. Navy. The family landed in Del Mar, CA in 2014 and at that time Amanda left her law practice and focused full time on her children and the development of her art practice. She plans to keep her studio here to create a stable base for her 3 children but she is often found in an airport exploring her world and connecting with friends and family on nearly every corner of the globe.
In addition to exhibiting in art galleries in local and national shows, Saint Claire's award winning artwork is on display at a revolving Solo Show entitled "Innovate" at the Innovation Center in San Diego and an international advertising agency in Southern California and she is included in the artist gallery in the new Diane Culhane book entitled "If you Can Doodle You Can Paint" available in bookstores in May. Saint Claire is a member of the LA Art Association and the Oceanside Museum Artist Alliance.
Saint Claire loves to collaborate with other artists and this show is no exception. Amanda will be joined by the very talented artists Paul Kauffman and Terri Rippee as they explore their individual and collective experiences with color in their divergent mediums. Kauffman in mixed media and Rippee with fine art photography.
The art exhibit entitled Conversations with Color will be on view from May 26, 2017 – July 8, 2017 with an opening celebration scheduled for Friday, May 26th 5:30 to 8:00 pm and an Artist Reception and a live painting demonstration on June 3rd at 5:00 to 8:00 pm at the Bonita Art Museum, 4355 Bonita Road, Bonita CA 91902.
For more information about the artist or the upcoming show find
Amanda Saint Claire Fine Art Studio at
www.amandasaintclaire.com
Email Saint Claire Fine Art Studio