Ashbrook Care & Rehabilitation Center Celebrates National Nursing Home Week with Scotch Plains Mayor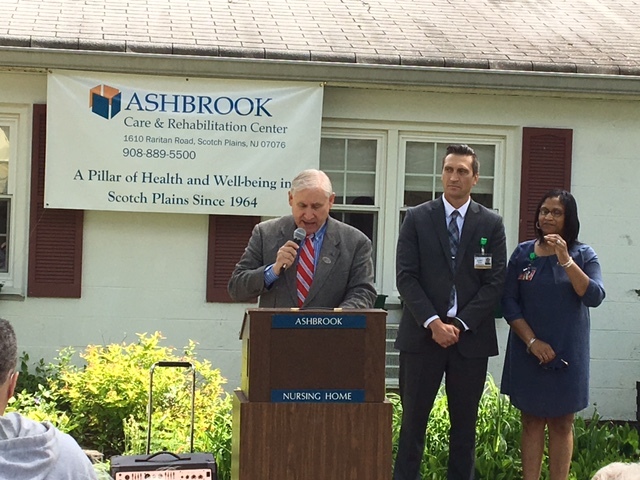 (PRLEAP.COM) May 17, 2017 - The Mayor of Scotch Plains, Honorable Alexander Smith joined Ashbrook Care and Rehabilitation Center this week to begin the celebration of National Nursing Home week by presenting a proclamation to honor the residents and staff of Ashbrook highlighting many of the exciting events planned for everyone to enjoy.
As part of Nursing Home Week, Ashbrook residents and staff will be participating in the United for a Cause 5k race that benefits Livestrong. Mary Kay representative, Tammi Hussey will be providing facials, Golden Spirit will give massages and Rita's will provide ice cream treats for residents and staff. The celebration will top off on Friday with a carnival.
Mayor Smith shared, " Ashbrook has been providing wonderful care and services to it's residents for many years. I fondly remember the many times that my late wife and I spent volunteering at Ashbrook, providing communion to the residents."
"We are honored to have Mayor Smith join us today to celebrate National Nursing Home Week at Ashbrook", said Administrator, Scott Royer.
Ashbrook Care & Rehabilitation Center, a Windsor Healthcare Community is located at 1610 Raritan Road, Scotch Plains New Jersey, offering clinically sophisticated sub-acute rehabilitation and long term care tailored to meet your individual needs.
Windsor Healthcare is a family-owned company, operating nine communities throughout New Jersey. Windsor is committed to providing medical excellence that enables patients and residents to maintain the quality of life they expect and deserve.
For more information on Ashbrook Care & Rehabilitation call 908-889-5500 or visit
www.windsorhealthcare.org/ashbrook
Email Windsor Healthcare Communities