Congratulations Thomas Jefferson School of Law Spring Class of 2017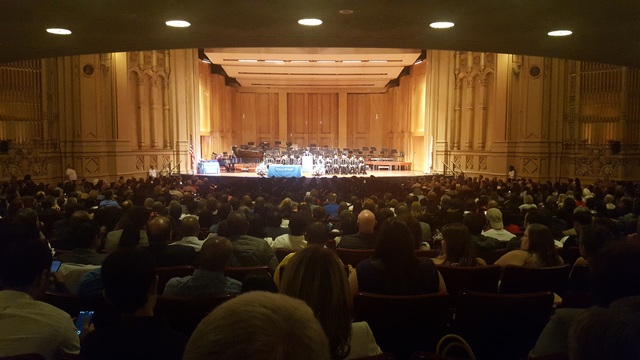 (PRLEAP.COM) SAN DIEGO, CA, 5/18/17 – Last Saturday, May 13th, the cheers and applause of proud family, friends, and faculty filled Copley Symphony Hall in downtown San Diego as Thomas Jefferson School of Law graduates assembled.
Chairman of the Board of Trustees, Randy K. Jones' introductory remarks were quickly followed by Dean Thomas Guernsey's presentation of the Summa plaques to the most distinguished graduates, including Valedictorian Kim A. Cruz.
"As lawyers, we are uniquely positioned to call out injustice when we see it and do what it takes to correct it. I believe the law is one of the most powerful tools for meaningful change," said Valedictorian Kim A. Cruz in her address. "I also believe that the law is a long-running open-ended conversation about how to best structure our society such that we get closer to the true meaning of the creed that each of us are created equal and entitled to life, liberty, and the pursuit of happiness. That is why we came to law school. To be agents of change."
This year also marked the awarding of the Samuel Kossack '15 Social Justice Award to Thomas Jefferson School of Law 2L student Jaime Figueroa for his contributions to social justice. Thomas Jefferson School of Law created this award in memory of alumnus Samuel Kossack, who himself was a champion of social justice, helped those who were less fortunate achieve equity and dignity. The award was presented by Dean Guernsey and the parents of Samuel Kossack, Ron and Alice Kossack.
Thomas Jefferson School of Law Dean and President Thomas Guernsey delivered this year's commencement address. Dean Guernsey offered graduates some practical advice on how they should conduct their professional lives using the "always wear a black tuxedo" principle.
Dean Guernsey also reminded graduates that their journey is not over after graduation. Their next milestone is to devote their full time and effort into passing the bar exam.
Together, Chairman Jones, Dean Guernsey and Associate Dean Susan Bisom-Rapp conferred 130 Juris Doctorate degrees, 5 International Taxation and Financial Services LLM degrees, 1 American Legal Studies LLM degree, and 2 Doctor of the Science of Law (JSD) degrees.
As is tradition, the Alumni Association President, Sabrina Greene '02, welcomed the newest graduates into the Alumni Association and offered short advice on their future as legal professionals.
Closing remarks were made by Dean Guernsey.
The mission of Thomas Jefferson School of Law is to provide an outstanding legal education for a nationally-based, diverse student body in a collegial and supportive environment with attention to newly emerging areas of law, particularly those related to technological development, globalization and the quest for social justice. Located in Downtown San Diego, Thomas Jefferson School of Law has evolved into an innovative, cutting-edge law school, devoted to the individual needs and success of its students. More information is available at
www.tjsl.edu.
—- END —-
CONTACT: Thomas Jefferson School of Law Director of Marketing and Communications Edgar Hopida, 619-961-4314 or 619-913-0719,
ehopida@tjsl.edu
Email Thomas Jefferson School of Law