Recent Innovations & Technology Adoption in the Direct Mail & Print Industry Revealed by bakergoodchild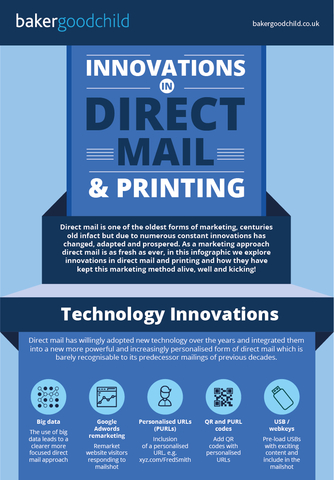 (PRLEAP.COM) June 7, 2017 – Birmingham, UK. As a mailing house, bakergoodchild have over twenty years' experience in delivering direct mail and print solutions. Their latest infographic reveals how innovations in direct mail and printing is transforming the way businesses market to and engage with their customers.
We asked the Managing Director Lorraine Burnell, "So what was the inspiration behind creating an infographic about direct mail and print innovations?" Lorraine said, "Well first of all this was a request from a few of our customers, to actually summarise recent innovations impacting our industry. As a specialist supplier in this field we also feel suitably qualified to talk about this topic with the level of authority required."
Lorraine continued, "We carefully considered the optimum delivery method for this content. Within bakergoodchild we felt there was a lot of content and messaging to convey and this was probably too much to convey in an article. We also considered recording a video, but again didn't feel this was quite right. We regularly produce infographics and felt that detailed text accompanied with a blend of icons and related images was the best way to proceed. We carefully created the content to accurately describe each innovation and worked closely with our designer to produce the perfect infographic."
The full infographic can be viewed here -
https://www.bakergoodchild.co.uk/infographic/innovations-in-direct-mail-and-printing
We then enquired, "So what approach did you take to create the infographic, which factors did you consider?" and Lorraine replied, "We needed to consider first of all the innovations which have most significantly impacted direct mail and print. Once we had a list of them all we then categorised the innovations into their logical groupings."
Expanding on her thoughts, Lorraine said, "Technology was the most obvious category and there were plenty of technological innovations in our first group. We then went on to discuss how the print industry has changed for the benefit of direct mail campaigns with print innovations. The direct mail industry itself (like any industry) has needed to change as well, so the third category was direct mail innovations. Finally we felt it was important to provide evidence with backing statistical evidence and information, so statistics became our fourth and final section."
Each category details a number of innovations. Three examples for each are for technology (PURLs, remarketing and social media integration), for print (variable data printing, foil stamping and popups) and for direct mail (envelope optimisation, hashtag use and including free samples).
The infographic works well and delivers the content in an easy to digest manner that will appeal to all readers. Whether you work in direct mail and print, are a researcher, business, or just generally interested, there is something here for all levels of prior knowledge. To learn more,
click this infographic link
to read about recent direct mail and print innovations.
Information about bakergoodchild
Based in Birmingham, UK – bakergoodchild is a creative and innovative mailing house providing solutions in the field of direct mail and print. Trading since 1995, bakergoodchild have constantly sought to innovate and have invested in the latest technology to benefit customers across many industrial sectors.
Official website:
https://www.bakergoodchild.co.uk
Registered Office: 6 - 7 Windsor Industrial Estate, Rupert Street, Birmingham, B7 4PR.
Telephone: UK +44 (0)800 612 1972
Contact: Lorraine Burnell, Managing Director