ShopInsuranceCanada Interviews RoadBudee Creators About Stopping Distracted Driving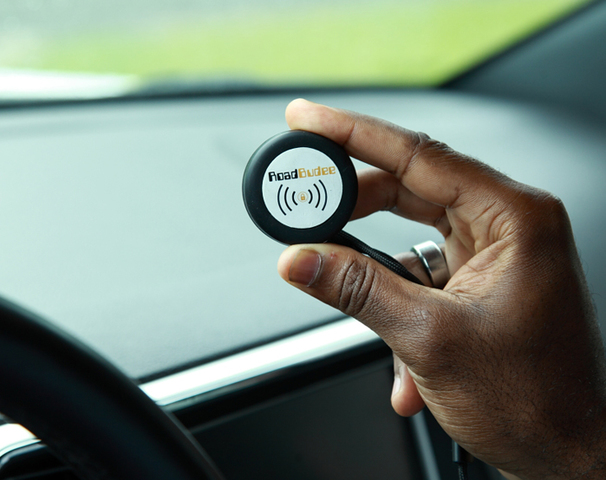 (PRLEAP.COM) August 2, 2017 - Distracted driving is among the biggest concerns on Canada's roads. People die every day from the infraction while government, police, and insurance companies are struggle to solve the problem.
Technology like RoadBudee might provide some answers
. ShopInsuranceCanada.ca spoke to the company's Chief Information Officer to find out how the system plans to stop distracted driving.
RoadBudee
was created and developed by Patrick Dubois. His reasons were not purely for money as he was once involved in a distracted driving incident where his then pregnant girlfriend was in a collision with a driver who was texting.
While his girlfriend was unharmed, the incident left an impression and Dubois decided to use technology to combat distracted driving.
The result is RoadBudee, a device and application that integrate themselves into a vehicle in-car system. Building on the concept of a connected vehicle, RoadBudee locks down a device. However, David Bambuck, Chief Information Officer for the company, says the device is meant to help drivers, not hinder them:
"RoadBudee is hardware and software. A device that is installed in a car, but it's also a technology that is a mobile application. So, it is not something to punish the person that has it, but was designed as a device to be interactive and to be dynamic. RoadBudee is your friend, like a dog, your best friend. It will be there when you need it most."
Because the software of RoadBudee integrates itself into an existing in-car system, it can take control of the smartphone and is connected to the ignition. However, this does mean a technician is required to install the device and system:
"It's something authorized dealers will install in the car. It's a product that is turnkey. You will be able to go in a garage and they will install it for you. That's because it is cutting edge technology and it connects into the computer of the car. We don't want users playing in the complex systems of their vehicles.
We are in development to have authorized technicians across Canada within the next month. You will be able to take an appointment and get RoadBudee installed."
Most distracted drivers cannot resist the urge to reach for their device. RoadBudee has a solution for this, if the smartphone is disconnected, the vehicle will stop automatically. Bambuck explains that once the device is connected, users will get virtually no functionality:
"When you go in your car, you will connect your phone to RoadBudee. When you plug in the phone, you can start the car. Once you start the car, the phone is activated, but the application takes the lead. Once the car is in motion, the application is set and you can just receive calls and use GPS.
There's something really cool about the GPS. We are building an online community, so all RoadBudees will sense each other and across the map will be all the other RoadBudees in the area. This is in development, but growing. Every day we have people joining the community. Right now, we have more than 1,200 people and it will continue to grow."
RoadBudee debuted in Quebec, but there are already plans underway to expand to other markets:
"We started in Quebec," Bambuck adds. "But we will be everywhere. In Ontario, across Canada, in New York. Everywhere… We want to be present in the United States, and we want to go into South America, where there are a lot of cars. When you see a lot of cars, there a lot of accidents and RoadBudee can bring car safety to people."
It is arguable that drivers will only be persuaded to avoid distraction if they are punished more severely by insurers and the law, or they receive discounts on their premiums. Bambuck says the company is targeting insurers and believes RoadBudee can help providers reduce risk and can help customers receive discounts:
"Of course. We have received some interesting calls, but tickets are revenue for government. Either they help companies push technology that will save lives, or people can keep dying and have accidents. It is both ways right now, but we are pushing for this technology.
Insurance companies are our first or second target because people say they drive, for example, 10,000 km per year. In fact, a lot of people lie to their insurance companies. With our device, we have more than 15 features. One of them will be to know the total distance a motorist drives. So, when you declare your insurance details, the insurer can see the proof from RoadBudee.
When you install the RoadBudee, you could get 15% off auto insurance. This is what we want to do for consumers."
About Shop Insurance Canada
Shop Insurance Canada is a Toronto based company that specializes in delivering the best
auto insurance products to customers around Ontario
and Canada. The online quoting tool uses an engine that is easy to use and accurate enough to deliver the best auto insurance quotes from over 25 of Canada's leading providers. Shop Insurance Canada also offers expert advice on the auto insurance industry, as well as guides and news to help customers find the best deal possible.
Shop Insurance Canada works hard to bring all the latest insurance news to customers. We believe that understanding the industry starts with knowing what is happening day to day. Our customers and readers are hugely important to us, and we want them to get the best deals by being involved in the industry. If you have any interesting insurance topics or stories, let us know and we will be happy to consider it and write it up.
Perhaps you have a funny story about your premium evaluations, or maybe a genuine worry about the state of insurance in Canada. Shop Insurance Canada wants your voice and story to be heard, so get in touch with us via our official
contact page
.
Shop Insurance Canada
1210 - 141 Adelaide St. W
Toronto, Ontario
M5H 3L5
Canada
(905) 266-0533
Email Shop Insurance Canada