International Students Participate in Thomas Jefferson School of Law's Legal English Program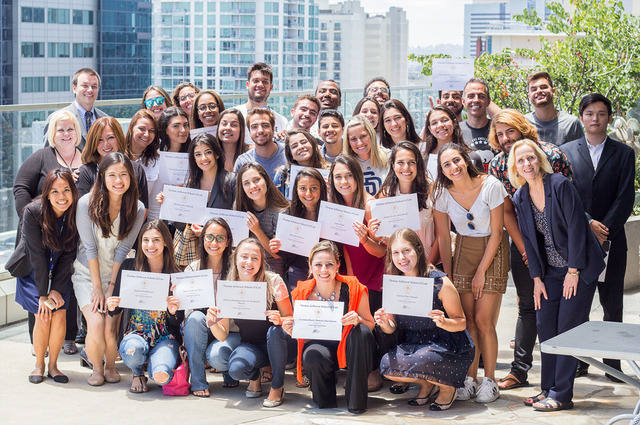 SAN DIEGO, CA, 8/9/17 – Last month, Thomas Jefferson School of Law hosted forty law students and lawyers from Brazil and China for its Legal English Program.
The Thomas Jefferson School of Law Legal English Program is a three week program where international students improve their English language skills, study about the US Legal System, visit a US Federal court, visit a California State court, and have an opportunity to immerse themselves in American culture. The program was organized and conducted by the Thomas Jefferson School of Law Graduate Program and Law Library staff.
"Teaching the students in the Legal English Program was a joy. The students were engaged and interested. I learned a lot about the Brazilian legal system from them as well," said Thomas Jefferson School of Law Director of the Library and Assistant Professor of Law Leigh Inman. "Our special thanks go to the San Diego Superior Court, particularly Julie Meyers, Presiding Judge Jeffrey Barton, Assistant Presiding Judge Peter Deddeh, Judge Melinda Lasater, and Judge Louis Hanoian. Thanks also to the United States District Court, Southern District of California, particularly Kathleen Walford, Judge Roger Benitez, Judge Anthony Battaglia, and Judge Jan Adler."
All students who participated in this program received a Certificate of Participation to commemorate their experience.
"This program was crafted to be a rigorous and enjoyable experience for International students to come and improve their knowledge of English and the US legal system," said Thomas Jefferson School of Law Assistant Dean for Program Development and Distance Education Jason Fiske. "It was an incredibly successful first run of the program. Enormous thanks to Leigh Inman, the Director of the Library. Without her, and her enormously talented staff, this program would not have been possible!"
The Legal English Program is slated to run every January and July.
The mission of Thomas Jefferson School of Law is to provide an outstanding legal education for a nationally-based, diverse student body in a collegial and supportive environment with attention to newly emerging areas of law, particularly those related to technological development, globalization and the quest for social justice. Located in Downtown San Diego, Thomas Jefferson School of Law has evolved into an innovative, cutting-edge law school, devoted to the individual needs and success of its students. More information is available at
www.tjsl.edu
.
—- END —-
CONTACT: Thomas Jefferson School of Law Director of Marketing and Communications Edgar Hopida, 619-961-4314 or 619-913-0719,
ehopida@tjsl.edu
Email Thomas Jefferson School of Law