Thomas Jefferson School of Law Students Participate in 2nd Annual International Student Conference in Azerbaijan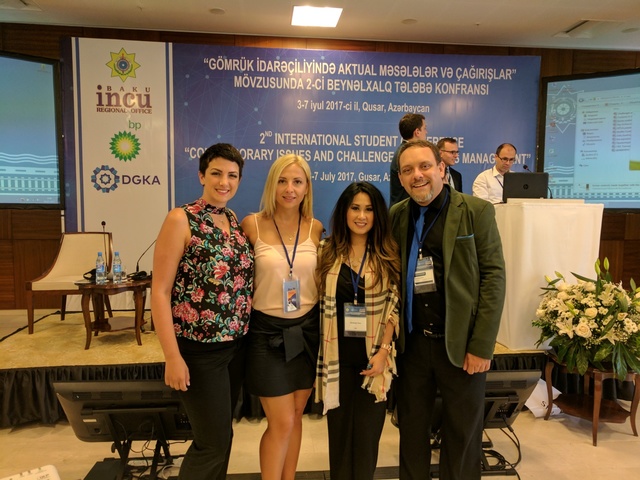 SAN DIEGO, CA, 8/21/17 – A contingent from Thomas Jefferson School of Law visited Azerbaijan recently to participate in the 2nd International Student Conference, "Contemporary Issues and Challenges in Customs Management." The conference took place from July 3 to 7 in Qusar, Azerbaijan.
A group consisting of Christina Tran (3L), Margarita Effron (1L), Associate Professor Kaimipono Wenger and Graduate Programs Assistant Maxyne Tanha traveled over 7,000 miles to participate in the international conference held at the stunning Shahdag Mountain Resort in the Caucasus Mountains, a short drive from the shores of the Caspian Sea.
The conference included speakers and participants from over thirty countries, including Azerbaijan, Australia, Austria, Belarus, Belgium, Bulgaria, Cambodia, China, Georgia, Germany, Hungary, Iceland, Iran, Italy, Kazakhstan, Laos, Lithuania, Macedonia, Moldova, the Philippines, Poland, Russian Federation, Senegal, Spain, Turkey, Ukraine, the United Arab Emirates, Uruguay, Uzbekistan and Vietnam.
It featured keynote speeches from two different Nobel laureates, Professor Sir Christopher A. Pissarides and Professor Edward C. Prescott. The conference also included talks from government officials, academics, businesspeople and students, all focused on international business and customs issues.
Thomas Jefferson School of Law participants met with dignitaries, businesspeople, and leaders from a variety of different countries, including Professor Aydin Aliyev, Chairman of the State Customs Committee of Azerbaijan; Dr. Mikhail Kashubsky, Head of the International Network of Customs Universities Secretariat; and Professor David Widdowson, President of International Network of Customs Universities.
Ms. Tran presented her work on "Trade Relations Between the United States and China." In addition, Ms. Effron submitted a paper, "Trade Impact on Immigration Policy in the United States," which was published in the Conference proceedings.
"The conference was a fantastic opportunity for our students to learn about customs law and interact with scholars and officials from around the world," said Thomas Jefferson School of Law Associate Professor Kaimipono Wenger. "We thank our hosts for their wonderful hospitality."
"During the past few years, Azerbaijan and Thomas Jefferson School of Law have developed a special relationship. As a result, two students and a faculty member were invited to attend a prestigious international conference this summer about customs issues that put them and the law school on the world stage," said Martin Kruming '77, who has been involved in organizing a partnership between Azerbaijan and his Switzer Highland neighborhood. "All of us thank Azerbaijan officials as well as the Consul General of Azerbaijan in Los Angeles for this extraordinary privilege and look forward to working together on future projects that deepen our friendship even more."
In addition to the academic proceedings, conference attendees enjoyed the generous hospitality of the Customs committee. They toured the state-of-the-art customs and trade headquarters in Baku and spoke with officials there about their work. The attendees also saw lovely art and cultural items at the Heydar Aliyev Center and enjoyed an evening of traditional Azerbaijani music at a special private event where they enjoyed all sorts of tasty local cuisine.
The mission of Thomas Jefferson School of Law is to provide an outstanding legal education for a nationally-based, diverse student body in a collegial and supportive environment with attention to newly emerging areas of law, particularly those related to technological development, globalization and the quest for social justice. Located in Downtown San Diego, Thomas Jefferson School of Law has evolved into an innovative, cutting-edge law school, devoted to the individual needs and success of its students. More information is available at
www.tjsl.edu
.
—- END —-
CONTACT: Thomas Jefferson School of Law Director of Marketing and Communications Edgar Hopida, 619-961-4314 or 619-913-0719,
ehopida@tjsl.edu
Email Thomas Jefferson School of Law