Auto insurance lines inhibit drastic improvement in Canada's combined ratio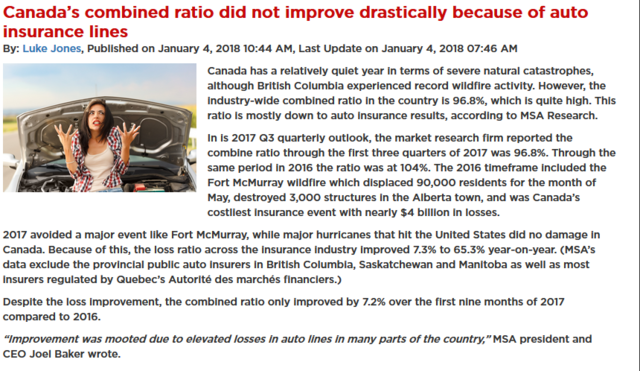 (PRLEAP.COM) Shop insurance Canada says that
Canada had a relatively quiet year in terms of severe natural catastrophes, although British Columbia experienced record wildfire activity.
It acknowledged that the industry-wide combined ratio in the country is 96.8%, which is quite high. This ratio is mostly due to auto insurance results, according to MSA Research.
In its 2017 Q3 quarterly outlook, the market research firm reported that the combine ratio through the first three quarters of 2017 was 96.8%. Through the same period in 2016 the ratio was at 104%. The 2016 timeframe included the Fort McMurray wildfire which displaced 90,000 residents for the month of May, destroyed 3,000 structures in the Alberta town, and was Canada's costliest insurance event with nearly $4 billion in losses.
2017 avoided a major event like Fort McMurray, while major hurricanes that hit the United States did no damage in Canada. Because of this, the loss ratio across the insurance industry improved 7.3% to 65.3% year-on-year. (MSA's data exclude the provincial public auto insurers in British Columbia, Saskatchewan and Manitoba as well as most insurers regulated by Quebec's Autorité des marchés financiers.)
Despite the loss improvement, Shop insurance observed that the combined ratio only improved by 7.2% over the first nine months of 2017 compared to 2016.
"Improvement was mooted due to elevated losses in auto lines in many parts of the country," MSA president and CEO Joel Baker wrote.
Shop Insurance Canada is a subsidiary of RDA Insurance, a major Ontario based insurance provider with a stable of online outlets that includes Shop Insurance Canada family sites. The company has two goals, to give you the very best insurance policy possible and to help you save money when looking for coverage.
Shop Insurance Canada
2110 - 18 Harrison Garden Blvd
North York, Ontario
M2N 7J7
Canada
(416) 543-9959
Email Shop Insurance Canada