Distracted Driving Remains Chief Concern Amongst Canadians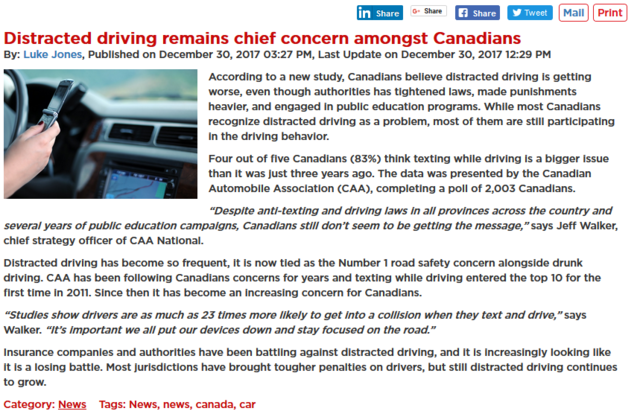 (PRLEAP.COM) February 22, 2018 - Shop Insurance Canada says; according to a new study,
Canadians believe distracted driving is getting worse, even though authorities has tightened laws, made punishments heavier, and engaged in public education programs.
While most Canadians recognize distracted driving as a problem, most of them are still participating in the driving behavior.
Four out of five Canadians (83%) think texting while driving is a bigger issue than it was just three years ago. The data was presented by the Canadian Automobile Association (CAA), completing a poll of 2,003 Canadians.
"Despite anti-texting and driving laws in all provinces across the country and several years of public education campaigns, Canadians still don't seem to be getting the message," says Jeff Walker, chief strategy officer of CAA National.
Distracted driving has become so frequent, it is now tied as the Number 1 road safety concern alongside drunk driving. CAA has been following Canadians concerns for years and texting while driving entered the top 10 for the first time in 2011. Since then it has become an increasing concern for Canadians.
"Studies show drivers are as much as 23 times more likely to get into a collision when they text and drive," says Walker. "It's important we all put our devices down and stay focused on the road."
According to Shop Insurance Canada, Insurance companies and authorities have been battling against distracted driving, and it is increasingly looking like it is a losing battle. Most jurisdictions have brought tougher penalties on drivers, but still distracted driving continues to grow.
Shop Insurance Canada is a subsidiary of
RDA Insurance
, a major Ontario based insurance provider with a stable of online outlets that includes Shop Insurance Canada family sites. The company has two goals, to give you the very best insurance policy possible and to help you save money when looking for coverage.
Shop Insurance Canada
1210 - 141 Adelaide St. W
Toronto, Ontario
M5H 3L5
Canada
(905) 266-0533
Email Shop Insurance Canada