IADUS system to brings automatic document authentication to customers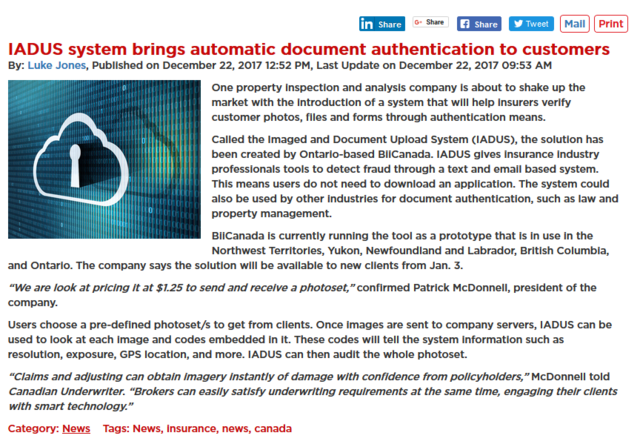 (PRLEAP.COM) One property inspection and analysis company is about to shake up the market with the introduction of a system that will help insurers verify customer photos, files and forms through authentication means, so says Shop Insurance Canada.
Called the
Imaged and Document Upload System (IADUS), the solution has been created by Ontario-based BiiCanada.
IADUS gives insurance industry professionals tools to detect fraud through a text and email based system. This means users do not need to download an application. The system could also be used by other industries for document authentication, such as law and property management.
The company says BiiCanada is currently running the tool as a prototype that is in use in the Northwest Territories, Yukon, Newfoundland and Labrador, British Columbia, and Ontario. The company also said the solution will be available to new clients from Jan. 3.
"We are look at pricing it at $1.25 to send and receive a photoset," confirmed Patrick McDonnell, president of the company.
Users choose a pre-defined photoset/s to get from clients. Once images are sent to company servers, IADUS can be used to look at each image and codes embedded in it. These codes will tell the system information such as resolution, exposure, GPS location, and more. IADUS can then audit the whole photoset.
"Claims and adjusting can obtain imagery instantly of damage with confidence from policyholders," McDonnell told Canadian Underwriter. "Brokers can easily satisfy underwriting requirements at the same time, engaging their clients with smart technology."
Shop Insurance Canada is a subsidiary of
RDA Insurance
, a major
Ontario based insurance provider
with a stable of online outlets that includes Shop Insurance Canada family sites. The company has two goals, to give you the very best insurance policy possible and to help you save money when looking for coverage.
Shop Insurance Canada
1210 - 141 Adelaide St. W
Toronto, Ontario
M5H 3L5
Canada
(905) 266-0533
Email Shop Insurance Canada