Thomas Jefferson School of Law Students and Professor Maurice Dyson speak at the National Action Network House of Justice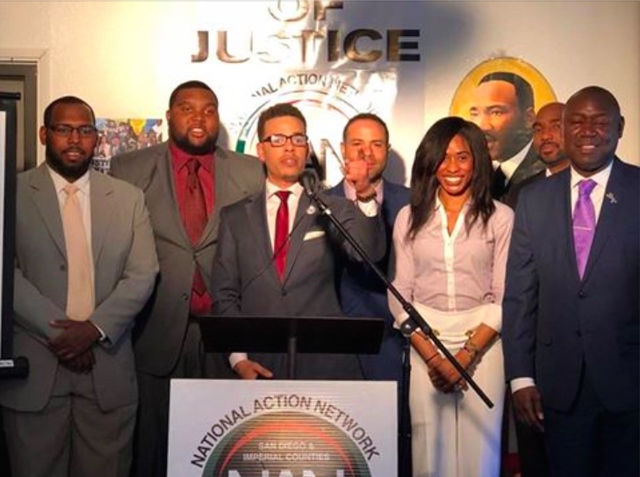 SAN DIEGO, CA, 3/10/18 – On Tuesday, March 6, 2018, students at the Thomas Jefferson School of Law were invited to join Professor of Law Maurice Dyson at the National Action Network House of Justice at the Ebenezer Baptist Church to discuss bringing greater transparency and accountability to excessive police force and shootings in communities of color. The dialogue with community leaders included nationally prominent civil rights attorneys Solomon Simmons and Benjamin Crump, who is known for his association with the 2012/2013 George Zimmerman case, and for representing the family of Michael Brown, a 17-year-old African-American man shot and killed by police in Ferguson, Missouri.
The attorneys discussed the need for greater documentation and consistent, persistent action to keep pressure on police forces, internal affairs, district attorneys and civilian review boards to do the right thing in holding police accountable for their actions. Tiffany Crutcher, sister of the slain Terence Crutcher, also spoke movingly about how the television reporters in the helicopters above callously and unfairly branded her brother as "bad dude," as the police shot her brother with his hands still in the air on tape for all to see. She shared how the police shot him and tazed him and proceeded to walk over him while he was dying without performing emergency aid or immediately seeking urgent medical assistance.
Many community leaders present spoke about a phenomenon where cities superficially put a person of color on civilian review boards but then fail to hold meetings or to take any action, including those long promised to be implemented only when faced with a lawsuit. The attorneys spoke passionately about the victim blaming that happens on a national scale whenever these incidents are covered in the media. They discussed the need to develop a public statistical report card for each city on how well the city is implementing reforms, including diversity hiring and implicit bias training for officers, investigators, and elected officials.
The law students were able to dialogue and network with prominent attorneys and civil rights leaders and hear moving stories from committed activists taking action in their communities around the country.
Email Thomas Jefferson School of Law