Kacee Johnson Recognized for Advancing Accounting Profession with Top 25 Thought Leader Honor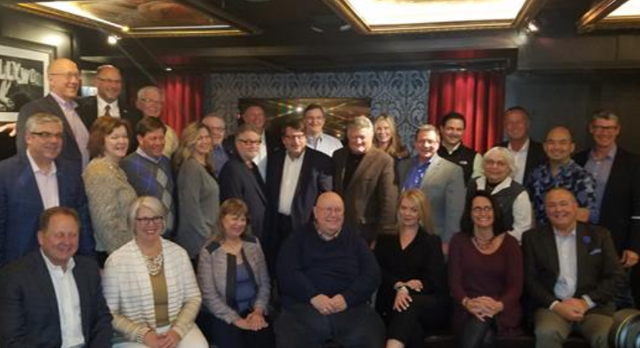 (PRLEAP.COM) Kacee Johnson, Founder and CEO of
Blue Ocean Principles
, was recognized as one of the
Top 25 Thought Leaders by CPA Practice Advisor Magazine
for 2018. The annual Thought Leader Symposium was held March 4-6th at the Rootworks Learning Center located inside the Hyatt Regency in downtown Indianapolis.
The event included the induction of value pricing visionary Ron Baker into the Accounting Hall of Fame.
The most respected and influential leaders in the accounting profession are invited to discuss emerging trends, technologies, and best practices that will influence the profession for years to come. "It is our honor and privilege to host the annual Accounting Thought Leader Symposium meeting," said Gail Perry, CPA, editor-in-chief of CPA Practice Advisor and facilitator for the event.
"The Symposium is made up of 30 incredible leaders who give generously and tirelessly of their own time and resources to make the accounting profession better.
The event is made possible with the support of our sponsors, ADP, Avalara, Cetrom, Intuit, and Sage.
Our profession is a better place as a result of the efforts of this group of visionaries."
The thought leaders get a first-hand look into the technology companies' strategic plans, while sharing the issues that matter most to tax and accounting professionals.
Popular trends of the 2018 Symposium included disruption and the future of the profession with advancing technologies such as blockchain, automation, and artificial intelligence.
Participants and vendor attendees are then able to refine strategies for best serving accounting professionals and their clients.
Johnson
commented on the second year inclusion to the prestigious group, "It is always an honor to be in the room with these great leaders of our profession. I don't think it is widely known the contribution and impact that each and every participant provides to the community on a daily basis. Without many of these luminaries, the accounting profession would not be what it is today."
Kacee
started Blue Ocean Principles, a strategic consulting firm to app developers and accountants, in October of 2014 after she left an executive position at a cloud computing company that specialized in CPA solutions. She works with top vendors in the space helping them to build products and strategies that fit the needs of accounting professionals. Her firm also acts as an outsourced CMO to accounting firms looking to drive growth. The company is hyper-niche focused in accounting and Kacee dedicates her time to educating year-round globally.
Kacee has been awarded the CPA Practice Advisor Magazines Top 40 Under 40 award since 2012 with designation under the Top 20 Under 40 Superstar Professionals in 2016 and 2017; added to the distinguished list of Top 25 Thought Leaders for 2017 and 2018, she is currently the only member of both award groups.
Kacee is a member of the Information Technology Alliance (ITA) and the American Marketing Association (AMA) and sits on the AICPA/CPA.com Accelerator Panel, the AICPA Women's Global Leadership Committee as well as the Accountex Leadership Council being recognized as one of the young professionals leading businesses into the future. Kacee lives in sunny Southern California with her husband and daughter, where she is active in cleaning up the beaches, mentoring young professionals, and advocating for women in business and technology leadership roles.
About Blue Ocean Principles
Blue Ocean Principles offers strategic consulting for business development and marketing management to app developers and accounting firms looking to build a better brand. The full-stack marketing agency specializes in support of Marketing, Sales, and Business Development initiatives. Working with key leadership to create strategies that will take business to the next level, as well as offer outsourced marketing management programs so the client can focus on production aspects of the business. Blue Ocean Principles offers a simplified, accelerated, and a clearly defined path to success by creating solutions that focus on innovation rather than competition. For more information, visit
www.blueoceanprinciples.com
or follow @KaceeBOP.
Email Blue Ocean Principles