Solve.Care Welcomes Theodore Waz to Advisory Board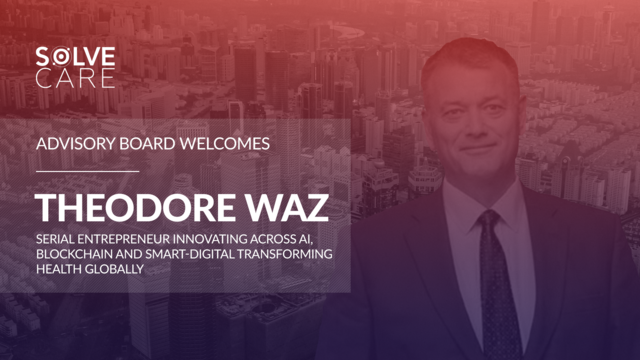 Theodore Waz, a serial entrepreneur innovating across AI, blockchain, smart-digital and data-in-motion cyber security, focused ontransforming the healthcare, fintech, data science and cyber security industries, has joined the
Solve.Care
Advisory Board.
Waz is renowed as a global innovator and thought-leader providing technology solutions markets in the United States and internationally. Leading one of the top 10 Most Innovative Companies in 2016, Waz was able to achieve over $50 million in early funding, making it one of the most inspiring and influential
startup success stories
. Waz has held a series of senior and CxO positions at fortune 500 Companies and Marquis Health Systems to include United Health Group, WellPoint, Cleveland Clinic Abu Dhabi, and Mubadalla.
An executive post-gradute of Harvard Medical School (SQIL), Waz brings an incredibly valueable perspective as both practioneer and innovator. Waz will lend his extensive healthcare technology expertise to Solve.Care as it continues to innovate in its own use of blockchain to reduce clinical and technology costs that have such a considerable impact healthcare affordability.
Waz knows very well how innovation and transparent business models can be used to improve access, security and connectivity. "Solve.Care is the future of decentralized, ultra-secure and accessible healthcare providing innovative solutions to the most burdensome, yet all to common, healthcare problems. Solve.Care combines the best practices of USA and International healthcare via Blockchain and AI technologies, and is flexible enough to meet the unique needs of both USA and International Markets. " said Waz. "Becoming an Advisor alongside Solve.Care's exceptionally talented Advisory Board will accelerate global expansion, while ensuring accessability by markets in desperate need innovative technology focused on impoving the health or our communities. In the end it is all about the health of our our children, parents and loved ones…"
Solve.Care is a revolutionary platform that patients, employers, physicians, healthcare organizations and insurance companies can use to make care delivery more efficient, effective, and affordable. Employers can use the platform to administer benefits, reduce costs and reward their employees, while physicians and hospitals can issue prescriptions, manage appointments and coordinate with specialists.
Solve.Care CEO Pradeep Goel couldn't agree more: "We are so excited for Ted to join our growing team. He has a proven track record in the healthcare industry worldwide, and understands that the future of healthcare revolves around innovative blockchain, AI, and digital technologies." Waz continues, "Solve.Care is already transforming legacy healthcare systems, and this is tremendously exciting for the wellness of our health systems and our communities."
About Solve.Care
Solve.Care Foundation was established with the goal to revolutionize administration of healthcare and other benefit programs globally. The stated mission of Solve.Care is to
"Make healthcare and benefit programs work better for everyone."
The platform brings a relationship centric approach to care coordination, administration and payments that addresses all three pillars of healthcare: clinical, administrative and financial.
Solve.Care platform
is designed to enable insurance companies, government agencies, hospitals and providers, pharmacies and businesses to build care coordination and delivery networks and engage their stakeholders. Solve.Care is launching a number of ground breaking innovations such as Care.Wallet, Care.Cards, Care.Coins, Care.Vault and Care.Protocol through their platform. Solve.Care is implementing the relationship centric approach by using distributed ledger technology and Blockchain.
Solve.Care has signed a multi-year contract for its decentralized healthcare administration platform with Arizona Care Network (ACN), a leading accountable care organization (ACO) in the US with a network of more than 5,000 physicians covering 250,000 members.
For more information about the company, please go to
http://www.solve.care
or contact us via email at
info@solve.care
Media Relations:
Mariya Ozadovskaya,
Mariya.Ozadovskaya@solve.care