Fusion Stone to Extend 2108 Demo Tour to Quebec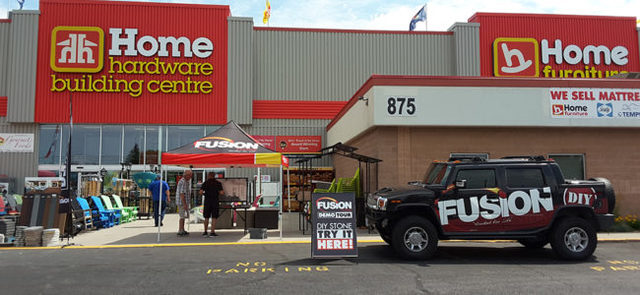 Fusion stone says they will be
extending the reach of their demo tour in 2018 to include Quebec
. This decision was made owing to the huge success recorded in Ontario. The demo tour was inaugurated in 2017.
Beginning in early May the Fusion Stone Demo Tour team will begin a two-month journey in the Fusion Stone Hummer to visit building materials stores in la belle province. In July and through August the team will continue the tour through Ontario.
Store customers will be given the opportunity to try for themselves to see just how fast, easy and convenient it is to install Fusion Stone thin stone veneer.
"If last year is any indication of what to expect in 2018, we'll be greeting a lot of enthusiastic consumers. People of both genders and all ages, including contractors will want to learn more about Fusion Stone", according to the company.
As an added bonus, the company says everyone will be encouraged to enter the Fusion Stone contest for a chance to win $5,000 worth of Fusion Stone when they visit
www.winfusion.ca
.
Keep your eyes open for the Fusion Stone Hummer– it's hard to miss. See for yourself how Fusion stone can enhance the appearance of your home or business, inside and out. Or simply visit your local building supply retailer – there are over 1,500 in Canada that carry Fusion Stone.
Fusion Stone is manufactured by
Shouldice Designer Stone
that has a rich and proud history of Innovation, Quality and Service. They are an example of the coming together of the beauty, strength, and maintenance free virtues of traditional stone with the ease of installation and affordability of stone veneer.
Fusion Stone
is an easy and budget-friendly way to beautifully upgrade your home, inside and out.
281227 Shouldice Block Road
Shallow Lake, Ontario
N0H 2K0 CANADA
Telephone: (519) 935-2771 ext.224 or (800) 265-3174
Email:
fusion@shouldice.ca