Aaron Ross Faces Tragedy With The Fallows And A Hike Across America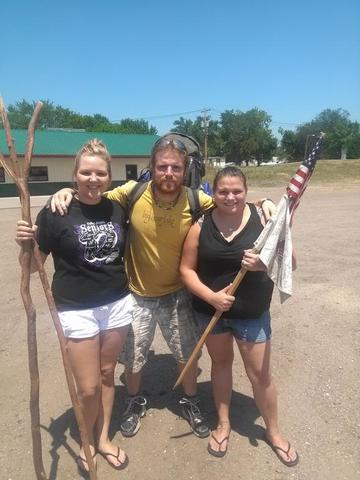 Hiking across the United States from New York City to Santa Monica Beach in LA, Aaron Ross caries a jar of ocean water filled up in New York City on September 11th with the sunrise to be poured into the ocean at Santa Monica beach with the sunset.
The hike Across America with the living love story The Fallows is to help to heal the world from what happened on September 11th when the Twin Towers fell down.
"As I hiked across America the most people that helped me along the way we're people that smoke pot, those who didn't smoke pot would help me with food and water. Many Beautiful People let me sleep in the yard during this adventure."
"I wrote The Fallows to inspire the world with a hike across America that would bring The Fallows to life. When the media picked up the story of the hike and the living love story The Fallows, it would add a new emotional dimension to the love story as they read; to inspire the reader's to save the world from global warming, poverty, war, crime, and disease."
The characters in the love story are named the man and the woman so the readers can place their names in the story to express their love to each other forever.
Aaron Ross was in the Tribune Review for the hike across America and did not finish the hike across America because of forgery charges from his step father. But he is not giving up. This May 31st he's going to Colorado Springs after 1769 mile hike from New York City to Colorado Springs. Aaron Ross will finish his hike to Santa Monica beach during the sunset to pour out a jar of ocean water. Carrying the jar across the United States was a way for Aaron Ross to bring The Fallows to life.
The Fallows Hike Across America
Name: Aaron Ross:
Book: The Fallows
Email:
aaronross55@comcast.net
Phone: 412-522-3153:
Website:
http://www.the-fallows.com/
Website:
http://thefallows.homesteadcloud.com/