SGI to Seek Insurance Rate Decrease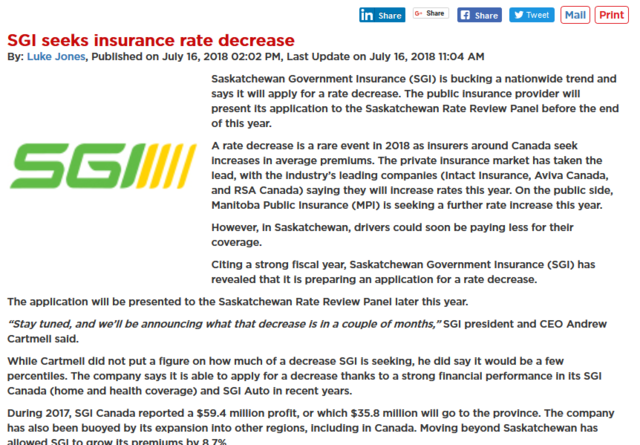 (PRLEAP.COM) Shop Insurance has reported that
Saskatchewan Government Insurance (SGI) is bucking a nationwide trend and says it will apply for a rate decrease.
The public insurance provider will present its application to the Saskatchewan Rate Review Panel before the end of this year.
A rate decrease is a rare event in 2018 as insurers around Canada seek increases in average premiums. The private insurance market has taken the lead, with the industry's leading companies (
Intact Insurance
,
Aviva Canada
, and
RSA Canada
) saying they will increase rates this year. On the public side, Manitoba Public Insurance (MPI) is seeking a further rate increase this year, Shop Insurance reported.
However, in Saskatchewan, drivers could soon be paying less for their coverage. Citing a strong fiscal year,
Saskatchewan Government Insurance (SGI)
has revealed that it is preparing an application for a rate decrease. The application will be presented to the Saskatchewan Rate Review Panel later this year. "Stay tuned, and we'll be announcing what that decrease is in a couple of months," SGI president and CEO Andrew Cartmell said.
While Cartmell did not put a figure on how much of a decrease SGI is seeking, he did say it would be a few percentiles. The company says it is able to apply for a decrease thanks to a strong financial performance in its SGI Canada (home and health coverage) and SGI Auto in recent years.
During 2017, SGI Canada reported a $59.4 million profit, of which $35.8 million will go to the province. The company has also been buoyed by its expansion into other regions, including Canada. Moving beyond Saskatchewan has allowed SGI to grow its premiums by 8.7%.
Shop Insurance Canada
is a subsidiary of
RDA Insurance
, a major Ontario based insurance provider with a stable of online outlets that includes Shop Insurance Canada family sites. The company has two goals, to give you the very best insurance policy possible and to help you save money when looking for coverage.
Shop Insurance Canada
303 - 330 Highway 7 East
Richmond Hill, Ontario
L4B 3P8
Canada
(905)266-0534
Email Shop Insurance Canada