Adventure Park at Long Island Introduces "Adventure Club" – Members Enjoy 365 Days of Ticket Savings & Other Benefits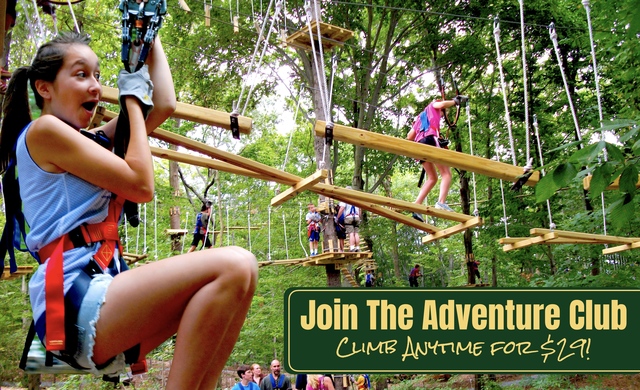 The Adventure Park at Long Island
announces it is now offering an entirely new membership program called "The Adventure Club", available to anyone who wants to enjoy significant ticket savings and other benefits at The Adventure Park for 365 days following their joining. (This new program is only for customers who seek to enjoy savings for multiple visits to the Park. Regular ticket sales continue to be offered as before.)
Adventure Club Members simply pay an annual membership fee, then at any time during the next 365 days may reserve tickets to climb during regular Park hours for a discounted flat rate of $29. Savings are greatest for adults but any age eligible for climbing tickets may become a member. All members receive a membership card, which must be presented upon arrival at the Park before climbing.
A special, introductory discount on the membership fee is being offered for a limited time: just $47.20 (This is a 20% savings off the regular $59 membership price.)
Memberships now will be good for discounts and benefits through this time next year. Members can join when visiting The Adventure Park or online. To see membership benefits and terms and conditions and to join
visit here
.
Adventure Club Member Benefits Include:
Tickets to The Adventure Park during regularly scheduled operating hours for $29.
The Adventure Club membership is active for a full year (365 days) from date of purchase.
Expedited Harnessing and Briefing after the second climb.
10% discount off all store items when presenting their membership card.
Bring a guest and they will receive 10% off their General Admission ticket.
Club-Member-only events.
Club membership honored at SEVEN Adventure Parks nationally (see Park locations at FunInTheTrees.com).
"We know many of our climbers want to return to The Adventure Park for multiple visits and we hope the new Adventure Club membership will help more of them to do so," said Adventure Park president, Bahman Azarm, "The affordable price should enable more people, their friends and families to climb together more often."
- About The Adventure Park -
The Adventure Park features a special combination experience of challenge bridges combined with zip lines between the trees that keep people coming back for more. The Park's friendly staff is available to answer questions and assist from the moment customers arrive to the moment they conclude their climb and return home with satisfied "I did it!" smiles.
The Adventure Park is not one single aerial treetop trail but a variety of different, color-coded aerial trails of differing challenge levels—beginner through expert—that climbers choose from depending on their age or climbing experience. There are trails suitable for kids, teens, adults and groups. These trails consist of platforms installed in the trees and connected by various configurations of cable, wood and rope to form "crossings" of different kinds including the ever-popular zip lines. Climbers wear harnesses which are doubly secured to safety cables using the Park's "always locked on" system of interlocking safety clips. Before venturing onto the trails climbers receive an interactive orientation and practice session.
The Adventure Park at Long Island is designed, built and operated by Outdoor Ventures in cooperation with Henry Kaufmann Campgrounds. It is located at 75 Colonial Springs Road, Wheatley Heights, NY 11798. Hours and pricing click here. For further details and updates visit
www.LongIslandTrees.org
, email
Info@LongIslandTrees.org
or call (631) 983-3844.
Email The Adventure Park at Long Island