Can you really wear a bridesmaid dress again?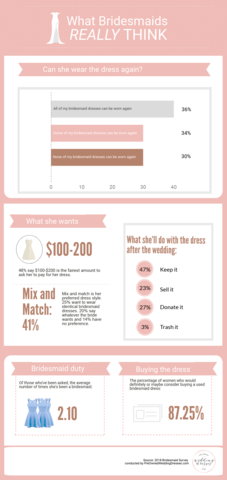 Can you really wear a bridesmaid dress again? According to a new survey, more bridesmaids than ever are answering yes.
PreOwnedWeddingDresses.com commissioned a survey in August 2018 which found that 36 percent of past bridesmaids say all of her dresses can be worn again. Thirty percent of past bridesmaids say none of her gowns can be re-worn.
A full 47 percent of bridesmaids say they will keep past bridesmaid dresses while 23 percent say they plan to sell their bridesmaid gowns after use.
The vast majority of bridesmaids, 87.25 percent, say they would definitely or maybe purchase a used bridesmaid dress, which underscore the growing popularity of bridesmaid and wedding dress resale.
Josie Daga, founder of PreOwnedWeddingDresses.com says bridesmaids say freeing up closet space and helping another bridesmaid save on her dress are the top reasons women sell their dresses through the site.
About PreOwnedWeddingDresses.com
PreOwnedWeddingDresses.com is a listing service that has been connecting buyers and sellers of wedding gowns, bridesmaid and bridal party dresses and accessories since 2004. The site changes a one- time flat listing fee and no commission on the sale, making it one of the most economical ways for a woman to sell her previously owned bridal gowns.
Email PreOwnedWeddingDresses.com
Attachments