Durability, Still of Utmost Importance to Fusion Stone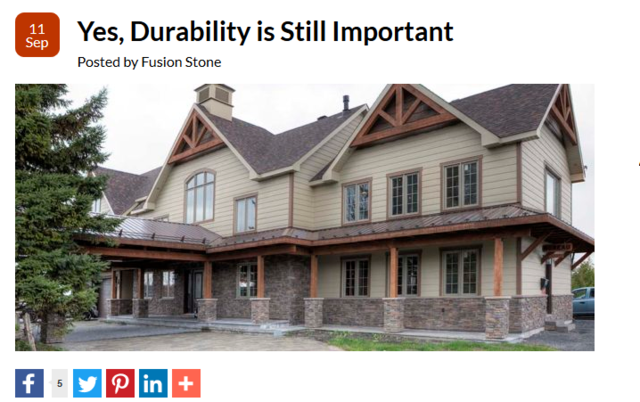 Fusion stone has stated that
durability remains its watch word as it churns out quality service to its customers
. The company explained that
"In our modern era of mass-production, having pride in something that is well-made is sometimes lost along the way. This is where Fusion Stone stands apart. Our strong beliefs in superior manufacturing practices are evident in the quality of our work, the durability of our products and the warranty that stands behind them."
Fusion stone also stated that there are many reasons why they are committed to ensuring their products meet the highest standards. They are customer-first oriented and they respect and honor the bonds that they create with their customers. Their eye for detail is unwavering and they are continually looking for ways to improve. Their third generation, 100% Canadian ownership showcases the values that they hold as a company and family, which is to make products that are unmatched in quality, beauty, variety and style.
Producing something that looks great is important, but just as important is how long it lasts. Fusion stone only produce top quality stone veneer and stand behind their products with unwavering certainty. They offer a Guarantee of Strength and Performance on all their products as long as they are installed in full accordance with installation guidelines and conform to local building codes.
The company is very proud to offer a lifetime of maintenance-free performance on all their products, but they have gone even further in their dedication to their customers.
The only thing stronger than our products and the passion we have for making them is our Lifetime Guarantee, the company remarked. Your complete satisfaction is extremely vital to us, which is why we guarantee, for life, the structural, aesthetic and performance integrity of all of our products, the company added.
Fusion stone warranty does not cover what they do not have control over, such as building settlement, wall movement, contact with chemicals and airborne containments that may affect the integrity of their products.
As if our products, durability and warranty weren't enough to showcase our commitment to manufacturing the best products possible, Fusion stone is also CCMC approved (#14008-R).
The Canadian Construction Materials Centre
, which operates within the National Research Council of Canada, offers a national evaluation service for a variety of building construction materials. Essentially, this means that their products have been recognized by Canada as an excellent choice to be used in any commercial and residential building.
"With so many products on the market, it can be tough to know which one to choose. We believe that through the high-quality products we make, the support we offer, and our extensive warranty, we make the decision that much easier. Contact us to find out more about our warranty and get a free estimate on your next DIY project."
Fusion Stone
is manufactured by
Shouldice Designer Stone
that has a rich and proud history of Innovation, Quality and Service. They are an example of the coming together of the beauty, strength, and maintenance free virtues of traditional stone with the ease of installation and affordability of stone veneer.
Fusion Stone is an easy and budget-friendly way to beautifully upgrade your home, inside and out.
Fusion Stone
281227 Shouldice Block Road
Shallow Lake, Ontario
N0H 2K0
CANADA
Telephone: (519) 935-2771 ext.224 or (800) 265-3174
Email:
fusion@shouldice.ca