Frank Family Vineyards Launches "Drink Pink" Campaign for Breast Cancer Awareness Month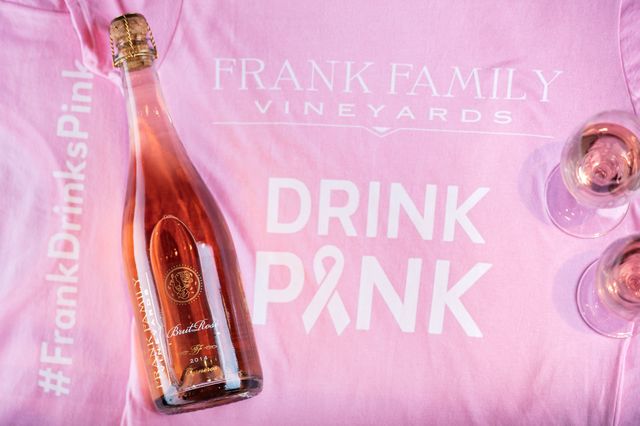 October 5, 2018 - Calistoga, Calif.)-During the month of October, Napa Valley-based Frank Family Vineyards will donate 10% of each bottle of Frank Family Vineyards 2014 Sparkling Brut Rosé sold online to the Breast Cancer Research Foundation in honor of Breast Cancer Awareness Month. Drink Pink gift packages will also be available on the Frank Family Vineyards website through October 31st. The gift packages are $75 and include a drink pink t-shirt and a bottle of the 2014 Sparkling Brut Rosé.
According to the CDC, each year in the United States, about 237,000 cases of breast cancer are diagnosed in women and about 2,100 in men. About 41,000 women and 450 men in the U.S. die each year from breast cancer.
"We hope that our efforts, combined with so many others in our community of wine producers, will not only raise funds but also continue to help raise awareness of this modern epidemic," owner Leslie Frank said.
Breast Cancer Research Foundation is the highest-rated breast cancer organization in the U.S., with an A+ rating from Charity Watch and a four-star rating from Charity Navigator. It is a nonprofit organization committed to achieving prevention and a cure for breast cancer. It provides critical funding for cancer research worldwide to fuel advances in tumor biology, genetics, prevention, treatment, metastasis and survivorship. As a result, researchers are able to make discoveries and design new approaches to address all aspects of breast cancer-and do so in record time.
Its efforts have raised more than half a billion dollars to date, which translates to more research hours, more answers, faster breakthroughs, and treatments personalized for every patient.
To view the gift packages or make a purchase please visit:
https://www.frankfamilyvineyards.com/wine/gift-packages/drink-pink-for-breast-cancer-awareness
To follow the campaign on social media go to #FrankDrinksPink and #BeTheEnd
About Frank Family Vineyards:
Frank Family Vineyards was founded in 1992 by former Disney Studios president, Rich Frank. First constructed as the Historic Larkmead Winery in 1884, the stone building on property is the third oldest in Napa and appears on the National Register of Historical Places. Today, Frank Family owns over 380 acres of vineyards in the Napa Valley. Frank Family's reputation for having the friendliest hospitality in Napa Valley has fans flocking to the tasting room on Larkmead Lane, making it one of the most popular tasting rooms in wine country. In 2015, Frank Family received Napa Green certifications for both land and winery. Frank Family produces a limited number of reserve wines and sparkling wines which are only available at the winery and on select restaurant wine lists. Frank Family's Carneros Chardonnay, Pinot Noir, Zinfandel and Cabernet Sauvignon are distributed nationally.
For more information about Frank Family Vineyards, visit
www.frankfamilyvineyards.com.
Follow on Social Media:
Hashtags: #FrankFamilyVineyards
Twitter: @FrankFamilyWine
Instagram: @FrankFamilyVineyards
Facebook: Frank Family Vineyards
For more information please contact Jarvis Communications at 310.313.6374
Email Frank Family Vineyards