Animal Tech company, Scollar, Seeking Pets to Feature on Times Square Billboards on NYE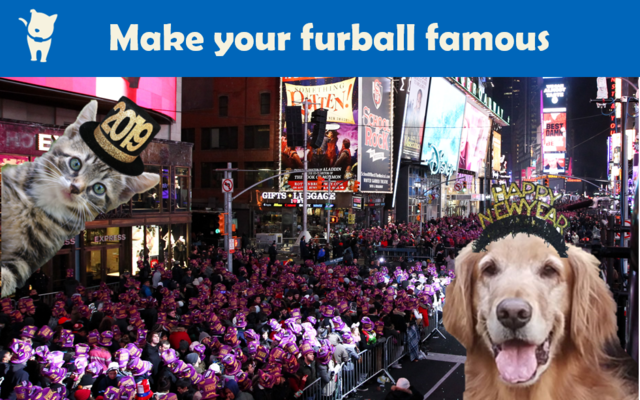 Every year, people travel from all over the world to New York City on December 31 to bring in the New Year on Times Square. Scollar, maker of the first all-in-one smart collar solution for pets, will proudly be in attendance this year with several key partners. They will be appearing on some of the most iconic and visible billboards in the world right in the heart of Times Square. Scollar will be one of many companies taking part in the Times Square Takeover, under the direction of Five Tier, a Manhattan-based company managing much of the content on billboards worldwide. These iconic billboards are viewed by millions of Times Square visitors throughout the evening.
"We are inviting our pet loving community to share the spotlight with us on the busiest night of the year on these enormous billboards," said Lisa Tamayo, Scollar CEO. "We are holding a contest and inviting people to send us photos of their dogs and cats with the chance of seeing those furry faces in lights on New Year's Eve."
Pet parents interested in submitting their photos for a chance to be included on the Times Square billboards can enter at
www.scollar.com/NYE.
Pet parents are welcome to submit as many entries as they'd like. A team of Scollar judges will be choosing 4 winners to feature on their billboards. Pet parents have until December 15 to enter. The Scollar billboards will begin broadcasting at 5 p.m. EST and will host an evening of games and prize giveaways designed to keep revelers in Times Square engaged while they wait for the iconic ball drop at midnight. Pet parents can text "Zuko" to 313131 to be included in the fun and be entered to win various prizes awarded throughout the evening.
About Scollar
Scollar has innovated the first all-in-one smart collar for animals. Founded in 2015, Scollar is the only open platform system for animal health and welfare, aggregating formerly separate features and functions into one sleek device and a vibrant marketplace. Scollar won Girls in Tech's annual startup competition in 2018 and was a finalist at the Kansas City Animal Health Investment Forum. Scollar is currently accepting pre-orders for their modular wearables for dogs and cats, which it plans to deliver in the Spring of 2019. For more information about Scollar, please visit
www.scollar.com
.
About Five Tier
Born out of an award-winning global marketing agency, Five Tier, launched in 2016 as the first marketing platform to integrate all communication channels including out of home, digital, social, email, mobile, and more. Widely considered a revolutionary platform for its ability to track and traffic intelligent cross channel communications, Five Tier has on demand, instant access to a wide range of broadcast media throughout the country, including in Times Square, on national highways, in stadiums, on boardwalks, and in hotels. Five Tier proudly offers clients faster, better, and more affordable solutions to complex business challenges. For more information about Five Tier, please visit
www.fivetier.com
.