Fusion Stone Gives an Overview Of 2018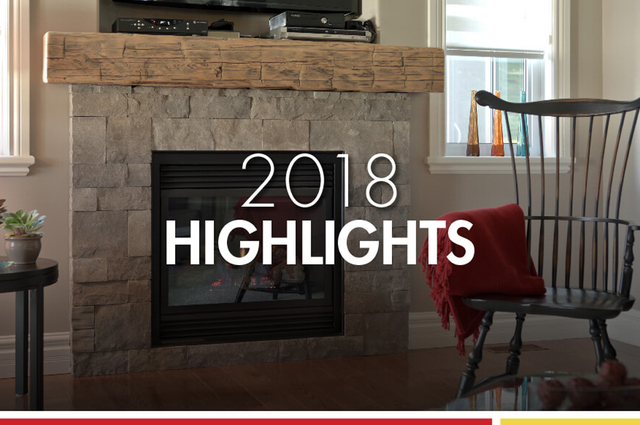 January 5, 2019 - According to Fusion stone,
2018 has been a great year
for them to be part of new and innovative design trends as well as exciting, interactive consumer directed activities. Here are just a few highlights of what transpired in 2018.
Mixing Patterns
- Mixing patterns was big this year for the company. Many said goodbye to uniform colors or patterns, and hello to mixing and matching various pieces and designs, as reported by the company. Adding a stone veneer feature wall to create diversity amongst patterns and accessories was a popular choice. Whether it is a wall in a bedroom or against a fireplace, Fusion Stone
Great Lakes stone veneer
which is available in four distinctive colors, offered both a rugged and traditional look.
Outdoor kitchen island or fire pit
- Fusion Stone was a frequent choice for those who love entertaining outdoors. Whether looking to create a beautiful fire pit for the cottage or an outdoor kitchen, Fusion Stone kept backyards looking interesting and beautiful as well as functional.
Outdoor Fireplaces
- Being cozy next to an outdoor fireplace is the perfect way to spend an evening, and Fusion Stone products made fireplaces dazzle this year. Adding their stone to a fireplace gave a rustic and enchanting appearance, while providing protection from the outdoor elements. This kind of project allowed people to extend their outdoor enjoyment, even on cool summer evenings.
The Ever-Popular Fusion Stone Demo Tour
- 2018 marked the second year for the Demo Tour. This year, Quebec and Ontario accounted for nearly 100 tour stops between the beginning of May and the end of September. The Demo Tour has been such a hit because it provides consumers with a hands-on opportunity to learn how quick and easy it is to install Fusion Stone.
These projects and events have been just a taste of the many great things that have happened with Fusion Stone in 2018. The company is incredibly pleased to have been part of them all, and is especially grateful to their fantastic customers and enthusiastic dealers for helping to make them happen.
Fusion Stone is manufactured by
Shouldice Designer Stone
that has a rich and proud history of Innovation, Quality and Service. They are an example of the coming together of the beauty, strength, and maintenance free virtues of traditional stone with the ease of installation and affordability of stone veneer.
Fusion Stone is an easy and budget-friendly way to beautifully upgrade your home, inside and out.
Fusion Stone
281227 Shouldice Block Road
Shallow Lake, Ontario
N0H 2K0 CANADA
Telephone: (519) 935-2771 ext.224 or (800) 265-3174
Email:
fusion@shouldice.ca