AFuzion Completes 150th Avionics Certification Gap Analysis, for China: DO-178C & ARP4754A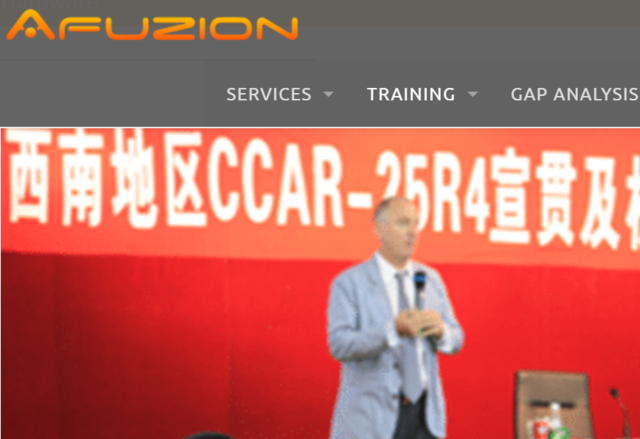 AFuzion recently provided it's 150th Avionics Certification Gap Analysis, this one in China for one of China's leading aerospace companies. As the world's largest and most successful avionics development certification services company, AFuzion provides gap analysis in DO-178C, DO-254, DO-278A, ARP4754A, and DO-200B.
Says AFuzion's Jack Jones "AFuzion's founders invented the first DO-178 gap analysis in 1989, before they went on to found three of the world's most signifiant avionics development and certification companies. We've come far and now have the world's most complete tool set for DO-178C Gap Analysis, DO-254 Gap Analysis, DO-278A Gap Analysis, DO-200B Gap Analysis, and ARP4754A Gap Analysis. All of our customers confirm they would recommend AFuzion's avionics gap analysis and that such saves them 5X -20X the price of the Gap Analysis. Details on AFuzion's Aviation gap analysis services are found here:
Click Here for AFuzion Gap Analysis Info
AFuzion's actual current engineers have provided more aviation software/hardware development Gap Analysis' than all other company's employed engineers in the world: 150. The following are the reasons most commonly cited by AFuzion's customers:
AFuzion's actual engineers invented the original aviation compliance Gap Analysis in 1989, founded three of the world's largest safety-critical consulting companies, and consulted for 300+ aviation development companies throughout the world.
AFuzion's proprietary Gap Analysis identifies the gaps in your DO-178C, DO-254, DO-278A, DO-200B, or ARP4754A engineering processes and identifies clear steps to optimally close those gaps.
AFuzion's Gap Analysis starts with customized consultation to "truly" understand your company's goals, culture, and products with complete privacy protected: you will never hear of other specific company's secrets nor will we ever share yours. Then AFuzion's Gap Analysis experts meet onsite to analyze your system, safety, software, hardware, quality assurance, configuration management, and tools environment to customize your Gap Analysis.
AFuzion trains, then guides, your personnel in understanding your gaps, top risks and risk-mitigation, and applicable Best Practices from AFuzion's 200-person years and 120 successful Gap Analysis.
AFuzion's Gap Analysis includes Cost and Schedule Reduction, and actual estimates for you to close your gaps in DO-178C, DO-254, ARP4754A, DO-278A, DO-200B, or ARP4754A. AFuzion advises you how to most cost-effectively close your gaps, including leveraging your existing work to avoid rework.
In addition, AFuzion gap analysis customers receive access to the world's largest, and most recently updated, collection of proprietary aviation development whitepapers. The full list can be found here, and non-clients can download up to two for free:
Click here to download free AFuzion technical whitepapers, up to two for free
Many AFuzion aviation gap analysis customers also procure AFuzion's DO178C training or DO254 training: with over 23,000 engineers trained by AFuzion's trainers in 30+ countries worldwide, AFuzion has trained more than all other trainers in the world
combined
. For information on AFuzion training,
Click Here for AFuzion DO-178C and DO-XXX and ARP4754A Training