Intrafocus Strategy Workshop is CPD Certified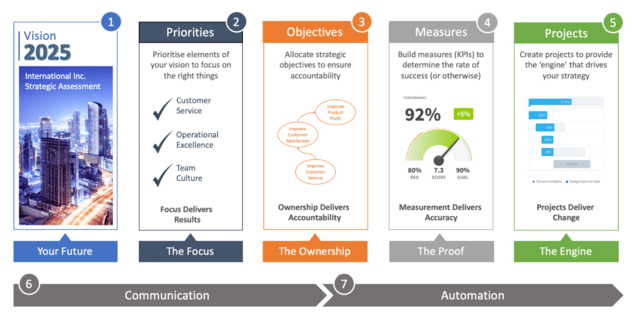 Intrafocus is delighted to announce that its renowned three-day
Strategy Workshop
has been certified by
CPD United Kingdom
. Therefore providing at least 18 hours of registered Continuing Personal Development (CDP) for anyone who attends the course.
Most organisations face a difficult challenge when developing a strategy. The CEO might have a pretty good idea as to where to take a company, but the management team and the workforce are so busy with day-to-day activities, nothing seems to change. The problem is they are all experts in their field, but they are not experts in strategic planning.
"This three-day CPD certified workshop helps an organisation understand the processes required to build and execute a strategy." Says Clive Keyte, Director at Intrafocus. "It leads them through a tried and tested seven-step Strategic Planning Process (SPP) utilising multiple team exercises and teacher guidance."
For many organisations, the CPD certification means their employees can obtain first-rate strategic planning education and at the same time accrue at least 18 hours of CPD from a typical annual total requirement of 35 hours.
"We are delighted that our workshop has been CDP certified," says Keyte, "We knew the course had a great deal to offer, but to be certified by such as prestigious authoritative body like CPD United Kingdom is a real honour."
The three-day workshop is for companies and organisation that want to run a facilitated and structured workshop for six or more people at their place of work or a venue of their choice.
About Intrafocus
Intrafocus is a business-performance management consultancy and software reseller. The software, provided by Spider Strategies®, is a KPI and scorecard management system linking KPIs to goals, strategic objectives, and initiatives or projects. Intrafocus runs balanced scorecard and strategy workshops to help organisations build, implement and manage strategy. The software is used by companies, large and small, across the world. The software can be easily integrated into any strategic planning process or added later as a management tool.