Fort Myers, Naples Remodeling Company Hosts National Industry Case Study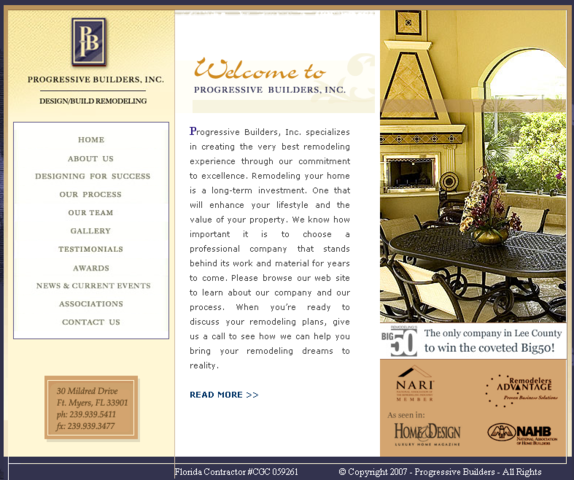 Ft. Myers, Florida –
Michael Spreckelmeier of Progressive Builders, Inc.
recently hosted a meeting of Remodelers Advantage Roundtables, an industry think-tank for top remodelers. Seventeen remodeling executives from across the nation met in Ft. Myers to provide each other with input and advice on how they can continually improve the services and products each company offers. Additionally, Progressive Builders, Southwest Florida's premiere home remodeling company, shared the systems and procedures they use, this knowledge is then coupled with the knowledge brought by the participant companies and at the end of the meeting they shared dozens of great techniques that can tremendously improve any remodeling company.
These business owners review financials, organizational charts, and many other systems that will add efficiency and predictability to their companies.
"Being the host company is a unique opportunity to get direct input on our systems and procedures from a group of knowledgeable peers," says Spreckelmeier.
"Since I joined Remodelers Advantage Roundtables in 2001, this group of professional remodelers has become my informal board of directors and has made a dramatic difference in the way I run my company. They've helped me pinpoint areas for improvement — as well as giving me their input on the areas in which our company is particularly strong. With this feedback, we'll be able to heighten the level of expertise and service that we offer, helping us deliver even more value to our customers."
Remodelers Advantage Roundtables has 160 member companies from around the country. The program, in existence since 1990, is specifically tailored for the owners of companies with annual sales of over $1,000,000. In addition to the company reviews, Roundtables incorporates state-of-the-art business resources to help each member reach a higher level of success within their business.
Email Progressive Builders, Inc.