Resolver Systems announces the public Beta release of Resolver One: the first Spreadsheet/Python hybrid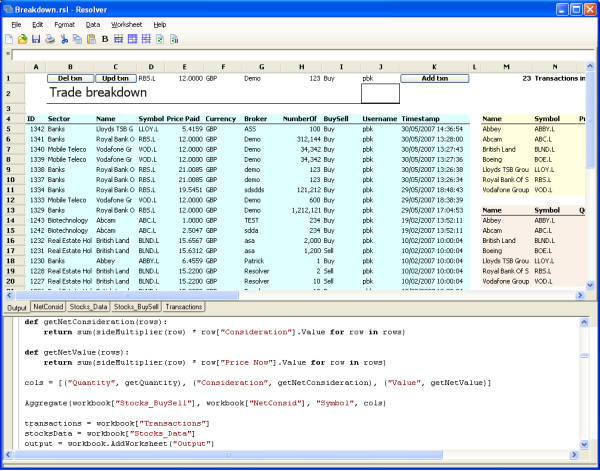 London - December 7, 2007- Today Resolver Systems (
www.resolversystems.com
) announces the public beta of Resolver One, a revolutionary improvement in spreadsheet systems. In Resolver One, the spreadsheet is a computer program.
"This will change the way businesses think about and use spreadsheets. So many of the problems of the traditional model – poor database integration, and the lack of auditing, iterative analysis, or web-publishing - are solved when you realise that any spreadsheet is, at heart, just a computer program," said Giles Thomas, CTO and MD of Resolver Systems.
"With this launch," said Jean Viry-Babel, Head of Sales, "we get the opportunity to get our product into the hands of the 1,000s of people who have expressed an interest since Resolver was featured on Jon Udell's blog and Slashdot."
Resolver One uses the Python programming language which was first released in 1991. Python is an easily learnable and highly expressive language with a rich standard library; it has been successfully used in a wide variety of applications, in businesses and in academia. Its clean syntax allows newcomers to become productive rapidly, while its more sophisticated features and built-in test framework allow experienced developers to build powerful tools which can adapt quickly to changing requirements.
"We're excited that at last people will be able to develop sophisticated applications, all within a familiar spreadsheet interface," added Giles Thomas.
About Resolver Systems:
Resolver Systems was founded in 2005 to produce a next generation spreadsheet. The founders, Giles Thomas, Robert Smithson and Patrick Kemmis, had all struggled with the challenges of running multi-million or multi-billion dollar businesses through poorly debugged spreadsheets. Their solution – Resolver One – seamlessly integrates a powerful and flexible programming language and a traditional spreadsheet environment. Already Resolver has received extensive interest from companies in the financial, medical and academic communities.