Win a Trip to One of the New 7 Wonders of the World Courtesy of HotelClub.com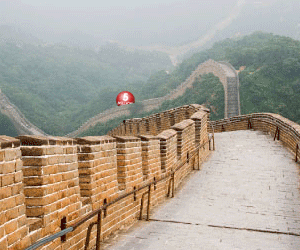 A lot of people have added 'visiting the new 7 Wonders of the World' to their list of 'Things to Do' before reaching forty. But how can one achieve that on a limited budget?
HotelClub.com
is celebrating reaching its own 'Wonder' of 5 million members by giving its members the opportunity to win the trip of a lifetime – visiting one of the new 7 Wonders of the World.
For a chance to visit any one of the new 7 Wonders of the World - log onto
HotelClub.com's Win a Trip to One of the New 7 Wonders of the World
and "Tell us in 50 words (or less) what your favorite Wonder of the World is and why" as written on the site.
The competition gives the opportunity to explore and discover a chosen wonder, with a prize valued at up to $10,000 USD including roundtrip economy class airfares (for 2 people) and one week of luxury accommodation (with breakfast included). This is a trip of a lifetime to engage in various activities in one of the following amazing destinations:
- Climb the Great Wall of China;
- Fall in love again at the original temple of love: the Taj Mahal, India;
- Bring out the Indiana Jones in you and explore where 'Raiders of the Lost Ark' was filmed at the pink ruins of Petra in Jordan;
- Become a Gladiator for a day at the Colosseum in Rome, one of the greatest works of Roman architecture and engineering;
- Visit the symbol of the city of Rio de Janeiro: the 38m statue of Christ the Redeemer and then dance till dawn in one of the party capitals of the world;
- Discover the previously 'lost city' of the Incas at the ruins of Machu Picchu in Peru;
- Unlock the ancient civilisation of the Mayans when you visit Chichen Itza, the most famous Mayan temple city in Mexico.
Enter today by logging onto
http://www.hotelclub.com/7wonders/
.
"Join our celebrations and have the opportunity to win a once in a lifetime holiday experience. At HotelClub.com, we believe in delivering value to our customers through our Membership program, great rates and customer experience on our website. Our Membership Program rewards customers in real value and time – allowing them to use Member Dollars to pay for all or part of their next booking," says Chloe Lim, Managing Director of
online discount hotel reservations
website HotelClub.com.
HotelClub.com's Membership program was launched in 2002 and is a pioneer of online accommodation loyalty programs. The Membership Program offers real rewards to over 5 million members globally. It is free to join and allows customers to earn Member Dollars (1 Member Dollar = $1USD) each time they book a hotel, which can then be spent on future stays.
* Source - The new 7 wonders of the world were determined by a global online poll conducted by
www.new7wonders.com
About HotelClub.com
HotelClub.com
is a global accommodation specialist website offering cheap hotel bookings for up to 12 months in advance. It offers users the choice of over 33,500 hotels – at savings of up to 60% – in 120 countries. HotelClub is available in twelve languages – Chinese, English, French, German, Italian, Japanese, Korean, Polish, Portuguese, Spanish, Swedish and Thai. HotelClub is a truly global website offering its customers access through country specific sites in 10 countries including HotelClub.com, HotelClub.com.au, HotelClub.de, HotelClub.fr, HotelClub.it, HotelClub.es and HotelClub.co.uk. HotelClub.com is operated by HotelClub and is part of Orbitz Worldwide.