Heart healthy gifts for Valentine's from Numi Organic Tea: February is heart health month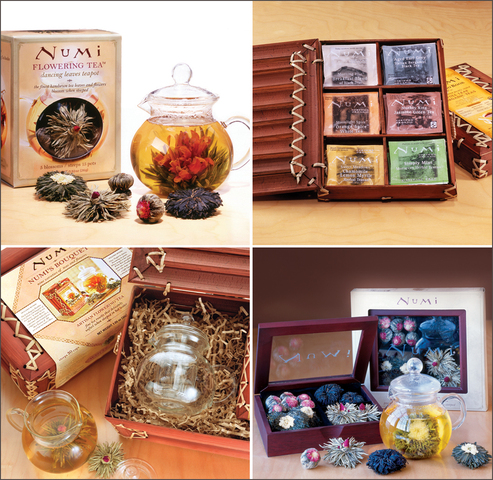 Oakland, CA-Dec 18, 2007-Numi Organic Tea- Cardio Vascular Disease (CVD) still reigns as the #1 cause of death in the United States and every February, when consumers go to the shelves to show they care, they find high sugar gifts, most of them full of high fructose corn syrup, artificial colors and flavors. This coming Valentine's, consumers can find heart healthy alternatives with the gift of tea that is both high in antioxidants and stress relieving properties.
According to Reem Rahim, co-founder of Numi, "Anytime I sip a cup of tea, I feel a sense of warmth as I am filled with enriching flavors. Tea naturally soothes me and I am that much more grateful that it has healthful benefits to my body."
According to the American Heart Association, tea consumption has been associated with a number of health healthy benefits from preventing cardio vascular disease to prolonging life post myocardial infarction or heart attack. Much of this is linked to tea's protective anti-oxidant constituents known as catechins and L-Theanine, an amino acid that is shown to be responsible for the calming qualities of tea. Since studies show a strong link to Cardio Vascular Disease (CVD) from everyday stressors and poor diet, there is definitely a place for Americans to increase their consumption of quality tea.
"From a number of epidemiological studies investigating the relationship between tea drinking and cardiovascular disease, it is reasonable to conclude that drinking both green and black tea is compatible with dietary advice to help protect against CVD."
Numi Organic Tea offers a variety of teas that are premium in quality and do not have added flavorings or oils that are common to the market. Blends unique to Numi's innovation include Velvet Garden, a new white tea with real rose buds, perfect to tempt the heart of a Valentine's recipient. For white rose, Numi imports organic whole rosebuds that are then cut up and blended with white tea through a proprietary process that uses the whole rose bud so no waste is created. This process that allows the rose's natural volatile oils to be absorbed right before tea bagging providing a premium taste and smell not found elsewhere. All of Numi's boxed teas are Certified Organic and Fair Trade Certified and their gift varieties are packaged in sustainably grown bamboo making them the ideal gift for the eco-conscious recipient.
For the world traveler or those just looking to escape, the new IRELAX with NUMI tea variety gift also includes a CD of soothing tracks from the tea lands. The goal in combining Real Music and Numi Organic Tea was to encourage the pursuit of the ancient art of self healing and relaxation – the understanding of when to pause, take a sip of tea and listen to comforting music. For those consumers who like to visually wow their loved ones, Numi's award winning Flowering Tea gifts will impress, as the tea leaves are handsewn around various flowers which then blossom open when steeped. Truly a sight to behold, Flowering Tea comes in all white, green, oolong and black tea and is perfect for Valentine's or Mother's Day.
For more info on the health benefits of tea, log on to
www.Numitea.com
# # #
Maclure, M., Muller, J.E.MD, Sherwood, J.B. RN, Mittleman, M.A. M.D. "Steeped in research: Tea linked to survival after heart attack" American Heart Association, 05/07/2002
http://www.americanheart.org/presenter.jhtml?identifier=3002624
"Tea and Cardiovascular Disease"
www.tea.co.uk/gfx/news/tea%20and%20cardiovascular%20disease
,%20update%20jan06.doc
About NUMI Organic Tea
Numi LLC is a leader in the natural & specialty tea category. Brother and sister founders Ahmed and Reem Rahim founded the company in 1999, which is known for premium full leaf teas, herbal teasans and an innovative line of Flowering Teas. NUMI's whole leaf teas are never treated with artificial flavors, colorings or oils common to the market making them the Purest Tea on the Planet. Numi is committed to global consciousness and sustainability in its packaging and business practices.
www.numitea.com
Media Contact:
Anna Hartman, C.N.
Public Relations Manager
510-533-8720 x16
anna@numitea.com