DirectBuy: Everybody Loves Rochester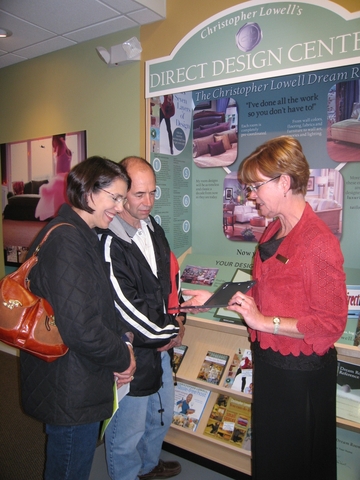 December 20, 2007 - When
DirectBuy of Rochester
Owners Marc and Sylvie Nadeau first opened the reports detailing their results on the Shapiro service survey, it didn't immediately sink in that their showroom netted the top honors. In fact, their entire service team was shocked by the news when it was revealed at a staff meeting.
"When they found out, a few employees had tears welling, and there was a lot of hugging," says Marc.
Chances are, the showroom's members weren't nearly as surprised. After all, they've experienced extraordinary service from the Rochester team – and they can't help but show their appreciation for the special treatment.
For example, members Steve and Cindy Friedman built and furnished their dream house through DirectBuy – then thanked the entire Rochester team for their incredible service with a reception in their honor at their home. Steve estimates that they saved $40,000 to $50,000 through their DirectBuy membership, and the support from the Nadeaus and the Rochester staff throughout the process was priceless.
"It's the least we can do for them after everything they do to accommodate us," says Steve. "The whole Center is outstanding, and we consider them friends as much as we do partners in a business relationship."
Based on the Shapiro results, the Friedmans aren't the only members who love the service they receive at their showroom – and the Rochester team is thrilled to be reminded that they're valued.
"It's very gratifying for the team to see the fruits of our labor, to see the results of all the things we do for our members every day," says Marc.
"Our team is really living up to the honor and appreciating it."
Five Tips from the Top
How Rochester Became #1
Strengthen Your Staff
The Nadeaus say that their staff sets the bar so high that when they do hiring, they put in some extra effort to find new employees that can fit in with their driven, overachieving managers and teams. Clearly, their diligence pays off.
"We couldn't have done this without this group," says Marc.
Bonding Matters
At DirectBuy of Rochester, the entire team gets together for dinner, bowling, paintball and other activities to foster a sense of unity and ownership that carries over to the showroom.
"We're big on team spirit and camaraderie," says Marc.
Sweet Rewards
Once employees reach a benchmark, the Nadeaus reward them. The day they found out their Shapiro ranking, Marc and Sylvie purchased gift certificates for one-hour massages at a posh local spa to treat their service team. Also, six service team members kicked back with other service stars on the Mayan Riviera at Summit.
Learn from Your Members
Last year, DirectBuy of Rochester conducted its own member survey to pinpoint any opportunities for improvement. The top complaint from members was the showroom's shopping hours, so the Nadeaus responded by opening earlier. Members have appreciated the extra time during the day for shopping, and merchandise volume has increased dramatically.
"It's been really popular with members with small children," says Marc.
Go the Extra Mile
The Nadeaus don't let much stand in the way of keeping a member happy, whether it means unpacking boxes in the warehouse, following up with manufacturers to get results, or personally driving to members' homes to deliver or assemble products. And the rest of the Rochester team eagerly follows their example.
"There's nothing we won't do for our members," says Marc. "We demonstrate that it's our collective responsibility. The entire team has pride in the showroom."
About DirectBuy
For more than 35 years, DirectBuy has been showing thousands of consumers unparalleled ways to save as they shop for virtually everything they need for in and around their homes - from
furniture
,
carpet
and
flooring
, to
kitchen and bath cabinets
,
appliances
and much, much more.
DirectBuy enables members to purchase most every product offering from several hundred manufacturers at over 140 showrooms across North America. To request a "Free Insider's Guide to Buying Direct" and a Visitor's Pass to learn more about the superior value and benefits of a DirectBuy membership, visit
www.directbuy.com
or
www.directbuycares.com