Construction Productivity Gets Big Boost from Ruff-In™ Pre-Fab Electrical Product Line from Cooper B-Line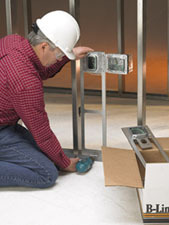 December 21, 2007 - Highland, IL – Cooper B-Line, a subsidiary of Cooper Industries, today announced the availability of the new Ruff-In™ Pre-Fab product line as a major extension to the company's broad line of commercial electrical fastening and electrical box positioning products.
"The Ruff-In™ Pre-Fab product line is an extension of our complete line of electrical fastening and electrical box positioning products," explained George Dowse, vice president of marketing for Cooper B-Line. "The Cooper B-Line Ruff-In offering combines products from multiple Cooper businesses, including outlet boxes from Cooper Crouse-Hinds and wiring devices from Cooper Wiring Devices, and offers factory preassembled solutions that arrive at the job site ready to be installed. By eliminating most of the on-site measuring, cutting and drilling, Ruff-In™ delivers great labor-savings."
"On larger commercial projects the developers and building owners benefit greatly by completing a new building sooner," pointed out Jim Knapik, vice president of marketing for Cooper Wiring Devices. "By completing construction ahead of schedule, tenants occupy the new space sooner and the building generates income quicker."
"For this reason, many developers actually incentivize suppliers to bring their projects in ahead of schedule," said Knapik. "This can bring a significant cash bonus to the electrical contractor, so this is one of the big benefits for utilizing pre-fab products."
"Contractors can actually see for themselves the savings they can expect on a particular project," said Kathy Neville, Ruff-In™ product manager for Cooper B-Line. "Our website offers a Ruff-In™ Pre-Fab Labor Savings Calculator (
www.cooperbline.com/Ruff-In/index.asp
) that can help a contractor determine how much time they can save doing rough in on their next project by ordering our pre-fab products."
New pre-fab electrical products reduce installation time, increase contractor productivity, and improve competitive bidding.
In the electrical trade the rough-in phase that occurs before the drywall has gone up is typically a time consuming labor-intensive portion of any commercial construction project. Rough-in refers to the rough installation of the electrical wiring, boxes, fixture mounts, breaker panels, and sub panels.
During this stage when access to the space between the studs, floor joists, and ceiling joists is most easily accessed, the electrical contractor must install the basic electrical foundation for all of the wiring devices for the project. After the rough-in phase, the installation of switches, receptacles, fixtures and so on is completed during the finish phase as the construction work nears completion.
Electrical contractors devote a significant portion of their project man hours preparing the rough-in for the structure supports and fastening conveyances used to attach the electrical wiring devices to the building structure.
It's a time-consuming job to select, measure, cut, drill, and attach the myriad of metal struts, braces, footings, boxes, and plaster rings required to establish a sturdy and well-constructed electrical infrastructure that is accurately and rigidly connected to the building's wall studs and framing.
Despite how time consuming this rough-in work is, it is also critical to a well-installed code-compliant electrical wiring system. Of course, the rough-in work must meet the National Electrical Code requirements, as well as local community standards, which mandate how high to mount the outlet and switch boxes, how to fasten the wire near the boxes, and where to drill the holes to run the wiring or cable.
But in today's commercial construction market, several powerful forces have combined to pressure electrical contractors to complete every phase of a project – including rough-in — faster and with reduced labor costs.
In addition to the financial pressures coming from the building construction team, there is also the fact that in many regional markets there is a real and growing shortage of skilled, experienced contractors. With the average age of electrical contractors now hitting 50 years of age, the contracting industry is facing a critical need for increased installation speed using labor-saving solutions in order to help workers handle project loads.
In order to handle more projects with their current size labor force, many contractors are increasingly turning to the use of pre-fabricated electrical products, especially on commercial projects like schools, office buildings, hotels, and retail chains, as well as large Multi-Dwelling Unit residential projects such as condos, apartment buildings and retirement communities. One such contracting firm is Sprig Electric, the fourth largest electrical contractor in California.
Ruff-In™ Pre-Fab line reduces construction costs on Multi-Dwelling Units.
San Jose, California-based Sprig Electric has 350 IBEW electricians and technicians and expects to generate $115 million to $120 million in 2007 revenue. Of that figure, at least 60% represents commercial projects, including Multi-Dwelling Unit construction.
"About three years ago, the residential MDU market drove us more into pre-fab because of the sheer number of units that came to market," said Darrell Clingerman, leader for the pre-fab department for Sprig Electric. "Pre-fab products are now used in approximately 85% of our commercial projects, and my pre-fab department has up to 12 electricians solely dedicated to preparing pre-fab construction solutions."
"When we began doing hi-density residential MDU work our pre-fabing accelerated by 60% to 70% above the earlier period," added Clingerman.
"We started using Cooper B-Line's Ruff-In™ products early in 2007 and we did some feasibility studies and found out that the Cooper B-Line product line provided even further installation time savings than our previous rough-in methods," said Clingerman.
"By using Cooper B-Line pre-fab solutions we saved an additional 10% to 20% of the rough-in portion on a typical project," explained Rick Clinton, vice president marketing for Sprig Electric. "Applying Cooper B-Line's Ruff-In™ products in our in-house rough-in shop allows the journeyman to do a project in the field without spending time checking every detail."
"We can offer the value of the cost savings back to our customers," said Clinton. "We've built in this saved time into our estimating process. With pre-fab construction in our shop using Ruff-In™ products, we find there are far fewer problems at the job site. It increases accuracy, provides a more consistent job, tightens schedules, reduces the number of people needed per project, and shortens project turnaround."
Actual Pre-Fab Labor Cost Savings Using
Cooper B-Line Ruff-In™ Products for a
Multiple Dwelling Unit Residential Project:
Normal rough-in not using pre-fab products per unit: 30 man hours @ $60/hr = $1800;
Using Cooper B-Line Ruff-In™ per unit: 25 man hours @ $60/hr = $1500 ($300 less per unit)
$300 Cost Savings per Unit X 500 units in project = $150,000 Project Labor Savings.
Ruff-In™ Pre-fab products are also available with pre-installed wiring devices.
Another electrical contractor that has benefited from using the Ruff-In™ products is Kaiser Electric, a $32 million firm with 150 electricians and twelve project managers located in Fenton, Missouri.
Kaiser Electric tends to single source projects with an electrical distributor, but when they had difficulty getting all of the Cooper brand products they wanted from one distributor, they started talking with Cooper marketing representatives about alternatives.
"We already had used Cooper B-Line products including cable tray, strut, and fasteners, so we used these pre-fab products from Cooper B-Line even before they were available as a standard product," admitted Tony Rose, director of purchasing for Kaiser Electric. "The first Ruff-In™ order with pre-wired devices actually came out of our conversations about The Cooper Connection. If I had to pick out one major partner among the companies we buy from, I'd have to say Cooper is one of our most important manufacturing partners. They've bent over backward to solve our biggest problems."
"I try to take purchasing to the next level by sticking with companies that give us products that help cut down our project labor time; that's where we benefit big-time," said Rose. "About 50% to 60% of the projects Kaiser does each year are commercial, and on these projects I believe we save as much as five minutes per assembled electrical box by using Cooper B-Lines' Ruff-In™ line. It's perfect for new construction."
"Our cost is $1 per minute per electrician on the job which really adds up when you're doing box assembly and wiring devices trimout," pointed out Rose. "By turning to factory-assembled pre-fab units that come as boxes already attached to support hardware, suddenly you are ahead on the project, and that provides a better value to our customers."
"I recall our first job using Ruff-In™ products," recalled Rose. "I checked with the foreman and he reported that the project was "a week up", or a week ahead of schedule, so we could send two electricians on to complete other projects. The trimout also went a lot faster because we had ordered the devices already on the boxes which saved an additional three to five minutes per box."
When asked if there's a downside to using pre-fab solutions, Rose pointed to the need to change worker's habits to accept the pre-fab approach. "Our biggest problem is convincing the older electricians to change the way they're doing things. Some tradesmen feel threatened by losing the fabrication work, when in reality, by using pre-fab products we are able to secure more projects by being more competitive," said Rose.
"The market is already responding favorably to the Ruff-In™ line, and I think it will continue to respond favorably," said Kathy Neville, Ruff-IN™ product manager for Cooper B-Line.
Cooper B-Line's Ruff-In™ Pre-Fab Product Line
Choose from this wide selection of adjustable box support products available as separates with a choice of plaster rings, or as ready-to-install pre-assembled units including a wide choice of pre-attached box styles:
- Floor Mount Box Supports
- Floor Mount Slider Combo
- Uni-Mount Box Support
- Telescoping Slider Bracket
- Open Box Support Bracket
- Double Sided Box Supports
- Single Sided Box Support Brackets
- Multiple Box Mounting Bracket
- Electrical Box T-Bar Fasteners
Company Information:
Cooper B-Line, a subsidiary of Cooper Industries (NYSE: CBE), is a leading manufacturer of quality support systems and enclosures for the mechanical, electrical and telecommunications industries. Cooper B-Line's products are used in a variety of settings for the commercial, industrial, utility and OEM markets. For more information, visit
www.cooperbline.com.
About Cooper Industries:
Cooper Industries, Ltd. is a global manufacturer with 2006 revenues of $5.2 billion, approximately 85 percent of which are from electrical products. Incorporated in Bermuda with administrative headquarters in Houston, Cooper employs approximately 31,000 people and operates eight divisions: Cooper B-Line, Cooper Bussmann, Cooper Crouse-Hinds, Cooper Lighting, Cooper Menvier, Cooper Power Systems, Cooper Wiring Devices and Cooper Tools group. Cooper Connection provides a common marketing and selling platform for Cooper's sales to electrical distributors. For more information, visit
www.cooperindustries.com.
Attachments