Nu Era Cedar Homes announces new log home building system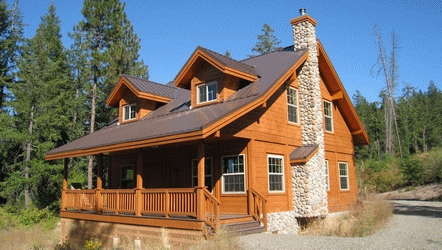 Lyndhurst, VA - August 25, 2012 -
Nu Era Cedar Homes
is proud to announce the release of the D-Log Cedar Timber Building System. Unlike our Post & Beam and other Cedar Timber home systems, the D-Log Cedar Timber Home Building System has a distinctive Log Home appearance. In response to many of our patron's desires to have a "Log Home" style, New England Cedar Homes now has an option for those who desire Log appeal.
The D-Log building system is an exceptionally strong, easy to assemble building system using kiln-dried laminated timbers made of five one-inch-thick cedar members. The result is a 5"x8" timber engineered to create a solid timber wall able to withstand earthquakes and hurricane-strength winds.
Simon Halliday, General Manager of Nu Era Cedar Homes, noted "The D-Log building system gives you the look of a log home, but without the leaking, settling, and messy caulking of a log home."
Many customers choose the D-Log building system to take advantage of the time saving in getting the home to dry in. " Many customers save well over 30% in building labor, which is a considerable saving over a stick built home of the same size", stated Mr. Halliday.
Nu Era Cedar Homes (
www.nuerahomes.com
) supplies premium quality post & beam, cedar log, and laminated log homes throughout the United States.
For more information on Nu Era Cedar Homes contact our head office toll free on 855.632.3327.