Optimalon has released version 1.5 of its cutting optimizer for PDA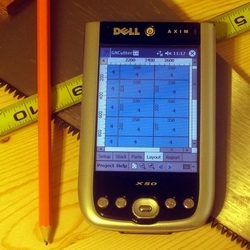 Software development firm, Optimalon Software, today announced the release of the newest version of its successful Cutting Optimizer GNCutter 1.5.
The unique feature of this product is the ability to solve complex cutting optimization tasks on Windows-powered mobile devices, such as Smartphones, Pocket PC and others. It brings unlimited possibilities for workers and engineers of finding the optimal way to cut wood, metal, drywall panel or glass sheets right at the construction sites.
CNCutter uses the latest optimization engine that is able to find the cutting layout of hundreds of parts in a couple of seconds. The graphical users interface (GUI) provides the simple and intuitive way to specify, modify and solve the cutting problems.
Marketing director of Optimalon Software Mr. Smirnov: "GNCutter opens a new field of mobile calculations, that didn't exist before. Combination of the innovative optimization methods and increasing power of mobile devices provides the next level of productivities for many workers, technicians and engineers."
More information and free trial version of the GNCutter is available at Optimalon Software Web site:
http://www.optimalon.com/product_gncutter.htm