Braintree Announces PCI DSS Compliance and Payments Integration Solution for Web and Application Developers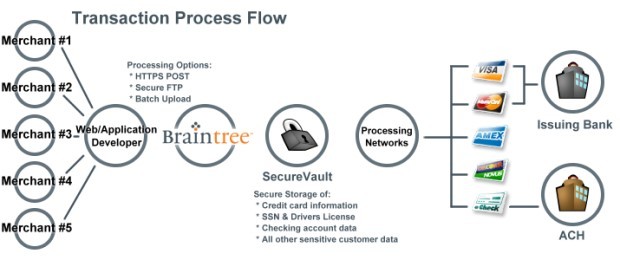 Braintree Payment Solutions, a national provider of end to end payment processing services, today announced Multi Merchant, a solution that allows web and application developers to increase the value of their services by 1) dramatically simplifying PCI DSS Compliance and 2) overcoming the challenge of being a third party payments aggregator.
In the past, PCI DSS Compliance and third party payments aggregation have been two of the largest stumbling blocks for developers offering credit card processing as part of their service to businesses. Braintree's unique solution for PCI DSS Compliance increases security, reduces compliance costs and optimizes internal resources. Developers can entirely eliminate the 'handling' and 'storage' of all credit card data in their solutions, simplifying compliance for themselves as well as for their customers.
Using Multi Merchant, developers can overcome third party payment aggregation challenges and process credit card transactions on behalf of their customers through the business's merchant account instead of their own. Money is deposited directly into the business's merchant account, not the provider's. Developers can maintain an unlimited number of merchant accounts in Multi Merchant.
Developers who have attempted or succeed in becoming third party payment aggregators (where one business uses their merchant account to processes a payment on behalf of another business) are well aware of two primary challenges. First, the Card Associations have strongly discouraged the practice of third party payments aggregation, which has made most merchant account providers reluctant to underwrite the business. Secondly, providers experience a high percentage of chargebacks and retrievals because the business name on the consumer's credit card statement differs from the name of the merchant from which they purchased the good or service.
Developers can use Braintree's Query API to aggregate all transaction reporting into their applications. This provides a single, comprehensive interface for their customers.
Multi Merchant is the total payment solution for web and application developers. It empowers developers to offer more robust and valuable solutions.
Email Braintree Payment Solutions