TrustBearer Labs Releases Secure OpenID Service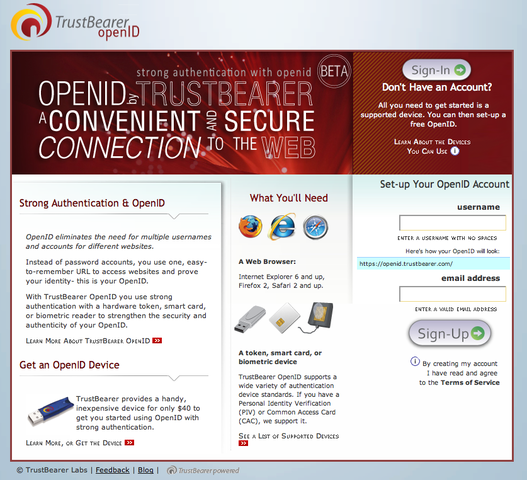 Ft Wayne, IN - February 13, 2008 - In an effort to improve user security and convenience with online applications, TrustBearer Labs has released a secure OpenID service combined with its TrustBearer Access software that eliminates the risk of using multiple passwords across multiple sites while providing a central and secure way for users to login. The system leverages authentication devices such as smart cards, usb tokens, and fingerprint biometrics to provide advanced security and convenience.
As with OpenID, TrustBearer's products provide users with a clean experience using credentials and digital identities with everyday services and applications. It requires no middleware software but rather works through the web browser on Windows, Mac, and Linux platforms - making it instantly deployable. TrustBearer leverages existing authentication devices, including the already over 6 million deployed Common Access Cards and PIV smart cards issued by the US and foreign governments with planned support for a variety of other national and government ID cards.
OpenID is an open architecture identity platform that allows users to have one ID which they use across a variety of online websites. While still in its adoption phase, the OpenID standard is steadily recognized by industry leaders such as Yahoo, AOL, and others. There are approximately 10,000 web sites and services that support OpenID and its growth and importance will continue.
More information on OpenID with TrustBearer including information on obtaining a TrustBearer Security Key for use with OpenID can be found at:
https://openid.trustbearer.com
About TrustBearer Labs
TrustBearer Labs delivers adaptive and effective identity solutions by creating software that simplifies and extends the use of authentication credentials. With over 10 years experience in developing applications in government, consumer, and health care - TrustBearer Labs is a recognized expert in making strong authentication and security simpler and more effective.