Revolutionary New WGCU Website Converges Media, Allows Audience to Connect!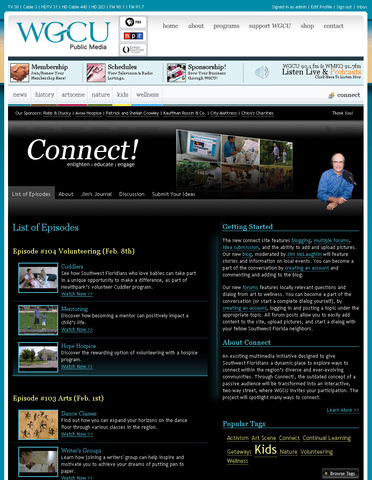 Fort Myers, Florida — After over a year of planning and production WGCU Public Media has released a revolutionary new web platform, called
Connect!
, converging its conventional media: Television, Radio, and Print, with a complete online community, featuring web 2.0 technology, where users can become a part of the discussion by creating individual profiles, sharing ideas, and contributing to the local dialogue:
WGCU Connect!
According to WGCU, Connect!, is:
"an exciting multimedia initiative designed to give Southwest Floridians a dynamic place to explore with ways to connect within the region's diverse and ever-evolving communities. Through Connect! the outdated concept of a passive audience is transformed into an interactive, two-way street, where WGCU invites your participation"
From baby cuddling to local dance classes, from Community Theater to bio-fuel, The Connect! television show begins the conversation each week as Southwest Florida's very own Jim McLaughlin hosts and starts the dialogue regarding that week's topic. The discussion is then continued throughout the website as well as on the follow-up radio show each Monday, again hosted by Jim McLaughlin, in which listeners are encouraged to participate over the phone and online. Jim McLaughlin is also heavily involved in the day-to-day management of the new Connect! website, logging in and responding to users' questions, helping to further the conversation online.
The new website created by
Fort Myers web development firm Atilus
, features state-of-the-art web 2.0 technology including, streaming video, individual user profiles, an interactive journal (blog), and discussion area. The website allows anyone to register and become a user, customize their personal page, vote on journal entries and certain topics, and start discussions involving the entire WGCU audience.
And the discussions are proving successful. In only a week since launch a large portion of the WGCU audience has already logged in and begun participating in the online discussions.
In another revolutionary shift, WGCU plans to use those discussions as a major source of ideas for future television, radio, print and online story production. As the community comments and discusses various topics of importance WGCU will produce content directly based off of those comments and discussions.
WGCU Connect! is one of many custom websites designed by Atilus, which specializes in complex sites based on efficient architecture and a thorough understanding of the client's target market. For more information on Atilus, call 239-362-1271 or visit
Atilus
.