Release Date Confirmed for World's First Full-length TEFL Documentary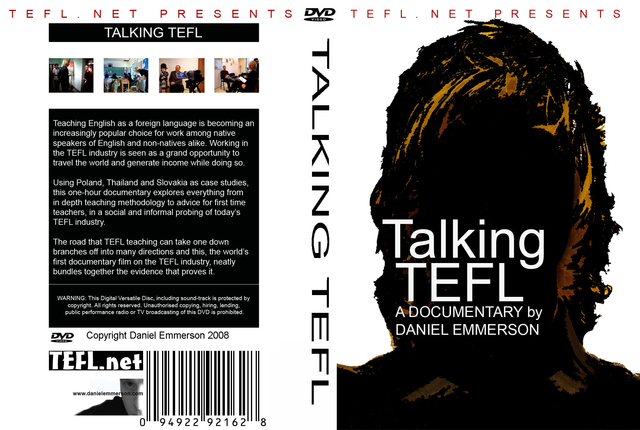 Cambridge, UK — "Talking TEFL", the world's first full-length documentary on TEFL (Teaching English as a Foreign Language), is set for world DVD release on 17 March 2008.
Produced by independent filmmaker Daniel Emmerson and sponsored by TEFL.net, the documentary film uses Poland, Thailand and Slovakia as primary case studies while exploring today's global TEFL industry.
"We shot over fifty hours of footage and interviewed numerous teachers about their experiences all over the world," explains Emmerson. "The final 60-minute production offers a detailed insight into the international TEFL industry and the responsibilities and requirements of 'native' and 'non-native' English teachers, as well as features on TEFL and travel, tips and advice, and exclusive footage from CELTA and SIT/TESOL teacher training courses."
Teaching English as a foreign language has becoming increasingly popular over the last ten years and has expanded across the entire globe. In order to craft the documentary, Emmerson first visited schools and TEFL institutions around Europe. He then travelled to Asia and explored schools and TEFL training centres across the South of Thailand before returning to Europe and completing a full tour of Poland, where he filmed everywhere from teacher training sites to commercial language school chains and independent private EFL institutions. The final product is a thoroughly informative and carefully researched documentary bursting with information about life in the TEFL industry.
"I am sure that viewers will be enthralled by this journey through the thoughts and experiences of so many practising English teachers, whether they be new to the field, just considering entering, or old hands. There is much to be learned from Daniel's carefully crafted production and I hope that viewers will enjoy and benefit from it as much as I have," said Josef Essberger, founder of TEFL.net who sponsored the film.
The DVD will be available for order through the websites of both the filmmaker and sponsor from the day of release. Meanwhile, the trailer for "Talking TEFL" can be seen online at
http://www.tefl.net
and
http://www.danielemmerson.com.
The 1-minute trailer details snippets from the full production and features a track by UK-based blackened folk band the Moulettes.