The Association of Strategic Alliance Professionals presents its 2008 "Alliance Excellence Awards" to EDS, Cisco, Fujitsu, Lilly, Roche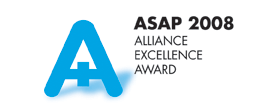 Boston, February 28, 2008 — The Association of Strategic Alliance Professionals (ASAP) announced the winners of its 2008 ASAP Alliance Excellence Awards yesterday at ASAP's 10th annual Alliance Summit, held February 25-28 in Lake Buena Vista, FL. The Awards ceremony followed the annual competition that honors outstanding alliances.
Winners of ASAP's Alliance Excellence Awards exemplify alliance best practices, innovation and organizational impact, often developing novel approaches in achieving results through collaboration. This year ASAP recognized a new awards category—"Alliances for Corporate Social Responsibility."
The award for Alliance Program Excellence went to EDS for its Agility Alliance program, acknowledging EDS' systematic, world-class approach to forming and managing an integrated portfolio of major alliances, including Cisco Systems, EMC, Microsoft, Oracle, SAP, Sun Microsystems, and Xerox Corporation.
This year's Individual Alliance Excellence Award went to Cisco and Fujitsu. The award committee was impressed with the sophistication of this alliance that spans the full value chain of product development, quality, services, support, and sales with the added challenge of managing a multi-cultural business on a global scale.
The new "Alliances for Corporate Social Responsibility" award was given to both Eli Lilly and Company and F. Hoffmann – La Roche. Lilly won for its Multi-Drug Resistant Tuberculosis (MDR-TB) Partnership, a global public-private alliance that is working to save lives by preventing and treating MDR-TB; Roche was recognized for the Roche Tamiflu Alliance program that has responded proactively to the emergence of the potential threat of a global Avian flu pandemic.
Both the Lilly and Roche alliance programs work extensively with The World Health Organization, national governments and N.G.O.'s, in public-private collaborations to address global public health threats. Gilead Sciences received an Honorable Mention Award for its part in the Roche Tamiflu alliance.
Nick Palmer, chairman of ASAP's Awards Committee, noted, "This year's awards process attracted a stellar group of nominees and truly exceptional winners. The increasing quality of nominees only confirms the growing impact of alliances and the awareness of the value of effective alliance management". Joining Palmer in selecting the winners were leading academics, analysts, thought leaders and consultants, having extensive experience with, and insight into, strategic alliances.
Robert Porter Lynch, Chairman Emeritus of ASAP and a member of ASAP's Awards Committee, noted, "Alliance programs like these are stellar examples of power of alliances and the fact that most of the major global challenges we face today and tomorrow will be addressed primarily through collaborative innovation."
Founded in 1999, ASAP is the leading global professional association dedicated to alliance formation and practice. With a global presence of 1800 members, it provides a forum to exchange partner/alliance best practices. It also offers a certification program in alliance management.
www.strategic-alliances.org
Tel: Kathryn Doran, 781-972-1340