Sky High Auctions Sets New Benchmark for eBay Training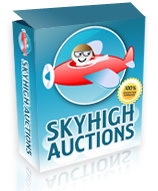 Sky High Auctions
has been in development for over a year and a half now. Its imminent release is an extremely exciting prospect for those wanting to make a living with their own eBay business. Over 800,000 people currently make a living from selling on eBay. Jimmy Huber, eBay Powerseller explains the philosophy behind Sky High Auctions: "One thing that I felt frustrated about, when I started on eBay, was that there was no comprehensive source available that teaches you any more than the basics of making a fulltime living on online auctions. So me and my powerseller friends wanted to create the ultimate resource." Sky High Auctions aims to make the process from starting up to selling much easier for those willing to enter the highly rewarding world of online auctions.
Sky High Auctions
takes a unique approach to guiding new and experienced sellers through building a business online. The program offers more than 35 hours of video footage in a lesson by lesson structure. Its point of difference is that Sky High Auctions assumes nothing, taking sellers from the very beginning of their businesses. Lesson One gives a complete introduction to Auctions and Marketplaces and is followed by lessons on Registering with eBay and Listing Your First Item. It's this nuts and bolts approach that makes Sky High Auctions so attractive to the new user.
However, Sky High Auctions is not just for the seller new to eBay. It is also a comprehensive resource for those wanting to expand their current business using a unique open ended approach to selling. Sky High Auctions avoids the pitfall of prescribing only one way to succeed, Huber says, "we wanted to cater to everyone who is interested in selling on eBay and there are different markets that suit different people." Sky High Auctions offers a strong starting point with many other strategies for increasing profitability.
Huber states, "There are many different ways of approaching making money from eBay that we approach in our course. Some of them are unconventional…others are conventional, such as how to find a profitable 'niche' market, and sell multiple products to your customers." Guiding the user through a step by step process in which they create their own totally distinctive business. The advanced lessons dispense information that is invaluable for polishing and refining online auction businesses including 8 Steps to achieving Power Seller Status and guidance for those who wish to import from China and Asia.
Sky High Auctions is invaluable because it combines providing solid and widely applicable business practice with examples and detailed solutions of how to deal with specific auction problems such as unresponsive buyers, unpaid item disputes and how to keep customs duties low. "This isn't any ordinary course, we've taken the time to do this properly and ensure it is of the highest standard in both quality of information, and also presentation," says Huber.
In addition to the complete library of lessons Sky High Auctions also supplies a number of interviews with eBay Experts including Powersellers Lee McIntyre (UK) and Jay Woolwine who impart their knowledge with a personal touch. The Drop Ship Professor is also involved giving an essential guide to drop shipping.
So far five taster videos have been produced and released on the
Sky High Auctions
site to overwhelmingly positive feedback. The full version promises to be even more popular with a whole host of additional bonuses including auction templates for absolute ease of use and an all inclusive help section.