Treasure your blog? Tell the world about it, BlogUpp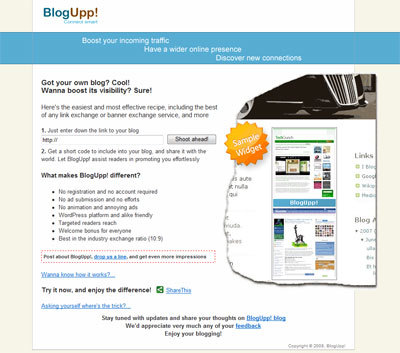 Blogging is becoming a mainstream phenomenon on the Internet, as more bloggers get passionate about it, and enjoy sharing their blogs widely. BlogUpp! is a new and improved service to help every blogger discover new connections and get traffic to the blog, no matter the language. BlogUpp! does that by assisting the readers in promoting the blog effortlessly and efficiently.
Getting started could not be easier. Unlike traditional services, you needn't even register. Just input the link to the blog, get a snippet of code, and embed into the blog. WordPress platform is supported too. As a result, for every 10 readers of the blog, it gets shown to 9 readers on other blogs, which is in fact the highest in the industry exchange ratio. And everyone gets a welcome bonus, to support in boosting the visibility from the start.
BlogUpp! doesn't require the blogger to submit an ad either, as it automatically takes a snapshot of the blog. It gets shared along with the most recent article, obtained from blog's RSS. In this way, with BlogUpp! widget the blogger enriches its blog content, and the readers are provided with diversified and valuable information. At the same time this method ensures there are no animation and annoying ads displayed to the readers.
The service accepts blogs in any language, and shares them inside the same one. BlogUpp's method for scanning the content of blogs and its text-matching technique will enable interaction between bloggers with similar topics and quality content, without requiring a weblog category being specified.
Each submitted blog is approved manually, in order to ensure only those with quality content are added. There are not accepted adult, gambling, and illegal or inappropriate content websites, which aims to make BlogUpp! a quality service. The approval doesn't require additional action from the blogger though. As indicator of the approval status is the color of a specific element in the widget.
Those willing to monitor their stats will get it just by following-up an easy procedure. Advanced bloggers could also use stats analytic services that are already available with their weblogs. The reliability and scalability of BlogUpp! are supported by Amazon services, which aims to maximize the availability and efficiency of the service for anyone, and at any time.
With BlogUpp! service the bloggers now have the possibility to discover new connections effortlessly, in an interactive, automated and extremely simplified way. Readers and traffic are the true currency for the weblogs, and BlogUpp! can give it cost free to every blogger with quality content