NURSE PRACTITIONER AND CEO OF HERBAL INTERVENTION CREATES HEALING HERBAL FIRST-AID SPRAY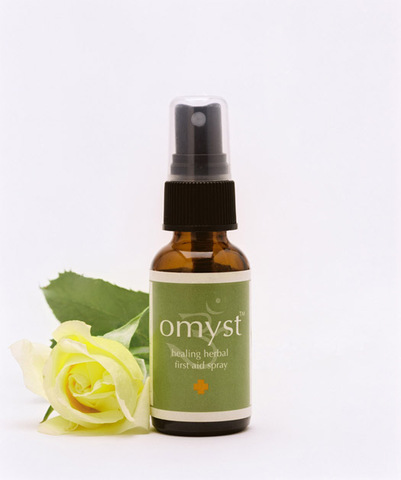 New York, NY [April 7, 2008] — Noreen Mulvanerty, a Family Nurse Practitioner and herbalist proudly announces her first product, Omyst™, a healing herbal first-aid spray. This revolutionary, international patent-pending spray has been successfully tested on over 2,000 patients and has been clinically proven to aid in the treatment of minor cuts, burns, scratches, rashes, insect bites, stings and sutures.
Omyst™ is an all-natural medicinal spray made from 100% organically grown calendula, yarrow, plantain and wild roses in alcohol. These medicinal herbs have been scientifically researched and found to be safe and effective among people of all ages. Noreen worked diligently to create the spray over the course of five
years.
World-renowned herbalist and author Susun Weed commented, "I expect Omyst™ to revolutionize the primary care for a wound in hospitals and homes throughout the U.S. and hopefully around the world."
Herbalists and proprietors of Healing Herbal Farm and Education Center, Andrea and Matthias Reisen stated, "Omyst™ is a truly wonderful wound healer. Noreen Mulvanerty possesses a wonderful ability to create a prayerful, powerful healing remedy. "
After completing a Post Graduate degree in Chinese medicine and an apprenticeship with Susun Weed, Mulvanerty was determined to create her own range of herbal products. The catalyst for a wound care spray stemmed from her observations working as a Family Nurse Practitioner in New York Emergency Rooms for over 12 years.
"I have treated and sutured thousands of cuts and burns and air is essential to rejuvenation," said Mulvanerty. "I became distressed to discover the leading topical application actually delayed wound healing causing an alarmingly high rate of infection. I believe my spray is the first of its kind as it contains all the essential healing components and is much cleaner and easier to apply than messy salves and ointments, which are often misapplied. The constituents also provide anti-itch and anti-inflammatory properties and reduces pain on contact."
Omyst™ can be purchased online at
www.omyst.com
and
www.herbalintervention.com
as well as select pharmacies, spas and first-aid kits in restaurants, bars and tattoo parlors in the New York Metropolitan area.
For a sample product and information kit, please contact Noreen Mulvanerty at 1 (718) 474-1212 or via email at
NMulvanerty@gmail.com
. For all media inquiries, please contact publicity manager Briege McGarrity at (917) 783 - 4042 or via email at
bmcgarrity@gmail.com
.
Email Herbal Intervention, LLC