Advanced Muscle Science releases Hyptertrop-X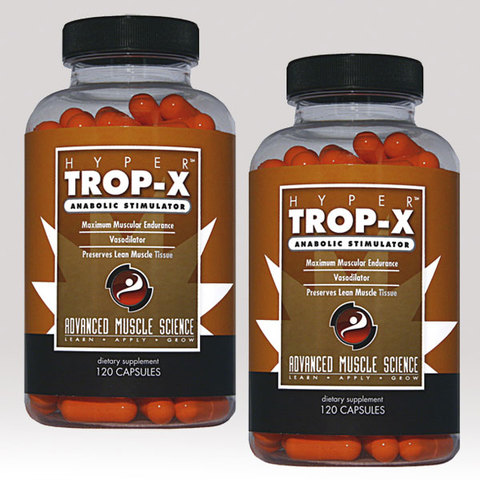 Advanced Muscle Science announced the release of HyperTrop-X, an encapsulated, Mega-dosed pre-workout supplement designed to increase muscle volume during weight training and to fuel maximum muscular endurance.
In general,
pre-workout supplements
can improve athletic performance by stimulating the central nervous system, by increasing energy, by reducing fatigue and by building muscle.
HyperTrop-X
is the 2nd Pre-workout offering recently introduced by Advanced Muscle Science and is applicable for the experienced athlete who wants to embark upon a cycle of performance enhancement.
HyperTrop-X
contains three scientifically proven performance-enhancing components, in large doses, that will greatly contribute to the overall anabolic environment for an athlete's body. These three ingredients are Beta Alanine, L-Leucine and Yohimbine HCL.
"
HyperTrop-X
is a scientifically formulated muscle stimulator that helps deliver energy needed to power through grueling workouts, workout longer, achieve maximum muscular endurance and preserve lean muscle tissue" said Dave Garrett, Vice President of Sales for Advanced Muscle Science.
"
HyperTrop-X
is a great choice for those athletes looking to embark on a long term training regimen. The amounts of ingredients in each serving are unparalled in the supplement industry and a bottle is guaranteed to fuel you through a minimum of 30 workouts. Also, the encapsulated form of this product contributes to a longer acting effect as compared to similar liquid products" Continued Garrett.
HyperTrop-X
joins the award winning Advanced Muscle Science family of nationally distributed premium bodybuilding supplements including 4-AD and 1-Androsterone.
HyperTrop-X
contains 120 capsules, 30 servings per container, and is shipping now.
For more information about Hyper Trop-X visit
http://advancedmusclescience.com/products/hypertrop-x
About Advanced Muscle Science:
AMS manufactures and markets next generation nutritional supplements and ergogenic aids to the sports nutrition industry, using scientific knowledge combined with world-class manufacturing facilities, while maintaining pharmaceutical quality standards
For more information about Advanced Muscle Science visit
http://advancedmusclescience.com/about-us
Email Advanced Muscle Science