Announcing BidMyCleaning.com – The first online marketplace for house cleaning services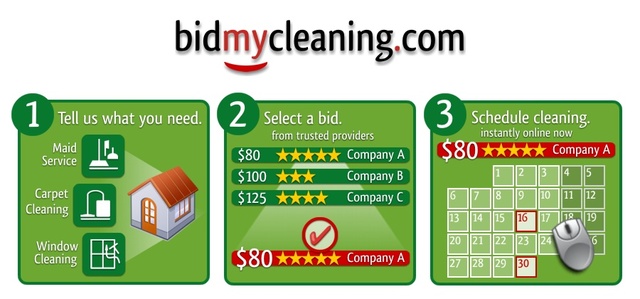 HOUSTON, Texas – April 29th, 2008 – Gone are the days where consumers in the market for cleaning services would search online for cleaning companies and then have to resort to e-mail or a telephone call to get an estimate, never knowing whether it would take 3 hours or 3 days to get a response. BidMyCleaning.com now enables consumers to find, research, and receive instant price quotes from qualified vendors in their area, saving time, energy and money.
BidMyCleaning.com is the first online service to provide a seamless experience for cleaning service consumers from search to scheduling. BidMyCleaning.com is for busy people who want an effortless way to organize their house cleaning needs from regular maid service to annual spring cleaning and carpet or window cleaning. The site offers visitors the convenience of being able to find and schedule their cleaning service whenever it suits them. Whether they are online at 1am or 1pm, BidMyCleaning.com is ready to serve. CEO, Raymond Aker commented, "For many consumers the Internet has become the essential tool to organize and plan their daily lives. Having worked in the cleaning service industry for many years now, we witnessed the shift to the internet as the primary medium for finding cleaning services and many wonderful websites already provide a rich source of information about the various service providers and their offerings. However, the internet also facilitates the expectation of immediacy; instant pricing and instant transactions. As far as we know, there isn't another site which is able to offer the choice of services and providers together with the instant bids, immediate scheduling and secure online payment mechanism. This is where BidMyCleaning.com adds significant value to the consumer."
Here's how BidMyCleaning.com works: The consumer uses a simple input form to describe their cleaning requirements and request bids. The site instantly returns a range of bids from pre-screened service providers. The preferred bid is selected and the winning service provider's availability is displayed to enable the home owner to select a date and time for the service which suits them. Customers have the ability to immediately schedule a once off or regular service. Their maid service, carpet cleaning or window cleaning appointments are recorded on their cleaning calendar which is available to them 24/7 so they can easily change any of their scheduled appointments or add new services. Billing is automatic after each service appointment has been completed.
Once the service has been completed customers have the opportunity to return to the site and provide feedback on the service provider. In addition to being able to select the lowest bid, the customer can also enjoy the additional reassurance of knowing that the particular service provider has been pre-screened and rated according to a strict BidMyCleaning.com checklist and has also received positive feedback from other customers. O' Brian Woods, COO added that, "in order to provide additional peace of mind BidMyCleaning.com offers a 100% satisfaction guarantee. We have a built in governance/mediation tool to ensure provider compliance with this guarantee."
BidMyCleaning.com has launched in Houston, Texas and San Diego, California with plans to expand nationwide. Visit
www.BidMyCleaning.com
to learn more about the service, find and schedule maid service, carpet cleaning or window cleaning and sign-up to be notified as additional cities are added. Alternatively, e-mail
feedback@BidMyCleaning.com
to be notified of new service locations.
About BidMyCleaning
BidMyCleaning.com is the only online marketplace for cleaning services where consumers can receive instant competitive bids tailored to their specific needs for maid service, carpet cleaning and window cleaning. After selecting a bid the consumer can then schedule their service online immediately. All payments are handled in a secure online environment. For cleaning providers, BidMyCleaning.com provides free online management tools creating the only market opportunity that gives businesses control over their schedule, clients and performance. For additional information, please visit
www.BidMyCleaning.com.