RBC Ombudsman Offices Automate Complaint Management while Improving Communication with Clients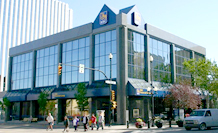 Ottawa, Canada – April 30, 2008 – Customer Expressions announced today that the Royal Bank of Canada (RBC) Financial Group has implemented the i-Sight complaint management software for ombudsman offices to improve the management of employee and customer complaints.
The history of Royal Bank of Canada (RBC), originally chartered in 1869, is closely tied to that of Canada itself. As the nation expanded rapidly westward from Nova Scotia, RBC was there to serve the merchants and residents of the developing communities—even if that meant hauling a 4½-ton safe by horse and pulleys over the Rocky Mountains.
Today, RBC ranks as not only Canada's largest bank but also the country's largest company, with a market value of over $50 billion, 70,000 employees, and 15 million clients in North America and 34 countries around the world. Its services include personal and commercial banking, wealth management services, insurance, corporate and investment banking, and transactions processing.
RBC continues to contribute to the progress of Canada through initiatives to support the environment and the communities it serves. The company operates, in part, with renewable energy, incorporates green-building into new facilities, and has decreased its paper use and greenhouse gas emissions. RBC also supports the arts, athletics, health and wellness, education, social and civic causes.
The Challenge
"I believe that a company's actions speak louder than its words," states Gordon M. Nixon, President and CEO of RBC, on the company's website. Since its early days, RBC has focused on serving clients, employees and communities with integrity. Hence, RBC takes employee and client complaints very seriously.
RBC's Office of the Ombudsman provides an impartial process for discussion and resolution of conflicts for all RBC businesses globally. The office's two divisions, the Client Ombudsman Team and Employee Ombudsman Team, are trained in mediation, fact-finding and listening.
RBC sees client complaints as a vital source of feedback. The Office of the Ombudsman, led by Wendy Knight, makes recommendations to RBC regarding ways to improve operations, products and services to eliminate or reduce client irritants.
Previously, the Office of the Ombudsman managed complaints in a Lotus Notes database as well as in Excel spreadsheets. Team members had to consult and update cases in both places. Plus, the department's 5-step resolution process was completely manual from end to end. Finally, the department lacked the reporting it needed to spot trends and make recommendations.
"We needed to process resolutions more efficiently and quickly, gain a better view of where complaints are in our process, and notice recurring issues so we can address them promptly," said Knight, Ombudsman.
The Solution
Knight and her staff researched case management solutions, with all arriving at the same conclusion. i-Sight Case Management software from Customer Expressions provided the best combination of ease of use and functionality. Reporting capabilities, and the fact that some of the RBC Ombudsman's peer organizations also use i-Sight successfully, further contributed to the team's decision.
The Office of the Ombudsman implemented i-Sight for both the Client Ombudsman and Employee Ombudsman teams. Customer Expressions assisted with matching the software to RBC's specific workflow. The Client Ombudsman case management process takes issues through five steps: Intake of cases, client interview, internal RBC interviews, case assessment, and reporting back to the client.
The Employee Ombudsman team utilizes i-Sight to capture non-identifying case data such as types of issues and root causes, information that helps the Employee Ombudsman provide recommendations back to senior management to reduce systemic or recurring issues.
As complaints come in by phone, email or surface mail, Ombudsman team members enter them into i-Sight. With a centralized case management system, they now enter specific required details for each case—ensuring that the department has all the identifiers it needs to find and report on cases.
Knight says that upfront process also helps the team determine whether the case should go through the full investigation process or be referred back to the relevant department in house. If the office refers an issue on, the client automatically receives a notification with details about when to expect a follow-up call. Automation in i-Sight moves cases along in the process, and to relevant parties, ensuring the team processes issues in the most efficient manner.
As Ombudsman, Knight appreciates that she, or anyone else on her team, can find complete case information in seconds. Before, it was a matter of looking through the Lotus Notes and Excel databases for the full details on a case. "We can bring up a case on screen in i-Sight and know exactly where we referred a case without having to go through 2-3 other programs," she said. "It's all in one system available with one mouse click."
Results
Centralized, automated case management streamlines the process for the Office of the Ombudsman staff and enhances customer service for clients. Having a single comprehensive system streamlines the per-contact data entry time, and reduces data search time by about 5-10 minutes each time a staff member needs to look up the status of a case. With automation of the 5-step process, cases move more quickly through to resolution.
That quick access to information makes the difference between answering a client inquiry immediately and getting back to the client later. Automated notification also improves service by ensuring customers are notified at each step—without Ombudsman staff having to create letters manually.
The office also captures more information, more consistently. Staff members enter the same type of data for every case, which will support weekly, monthly, quarterly and annual reporting on cases by type, location and division. By trending data, Knight anticipates that the Office of the Ombudsman can identify opportunities to serve clients and employees better.
"We will be able to make recommendations to business heads regarding ways to reduce client irritants," Knight said. "i-Sight will give us an early warning of systemic or recurring issues so we can address them promptly and reduce the incidence of similar complaints in the future."
About Customer Expressions
Based in Ottawa, Canada, Customer Expressions (
www.customerexpressions.com
) is a leading provider of web-based call tracking, customer service and case management software solutions. Customer Expressions has gained an international reputation for best-in-class software to optimize the management of various business processes. The privately held firm provides i-Sight, integrated case management software for call tracking, customer service, complaint handling, corrective and preventive action management (CAPA Management), and other business processes that require case management.
For further information, please contact:
Joe Gerard, Vice-President, Sales & Marketing
800-465-6089 or
media@customerexpressions.com
Email Customer Expressions