Dentallynx International to Celebrate First Anniversary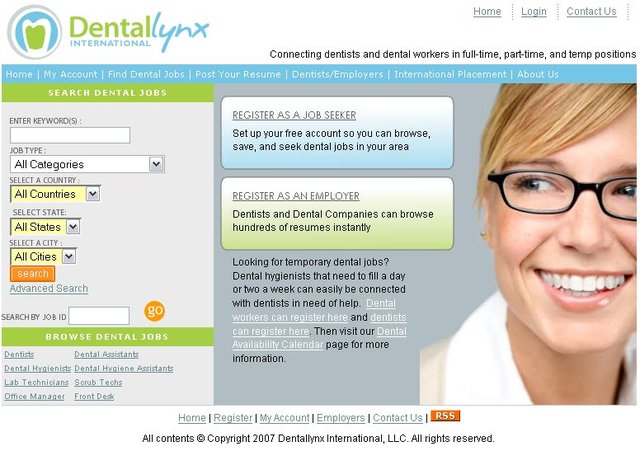 Dentallynx International, LLC debuted last year as an online job board with international scope. It was launched by a dental hygienist with experience working in dental offices in the U.S. and Switzerland. The site has been up and running for nearly a year and is gaining grounds in the Southern U.S. The website,
www.dentlynx.com
, is receiving much praise for its innovative Temp Availability Calendar and approach at job searching; providing the opportunity for dental hygienists to work abroad.
"I really enjoyed my overseas dental hygiene experience", says Angela Njoku, BSDH, part owner of the company. "Since I returned to the states three years ago, I have noticed that very few hygienists have any idea that their dental hygiene license can serve as their passport to the world. There are many countries that appreciate the care that dental hygienists provide but simply do not have the manpower to handle the demand. I really hope that our site will serve as a platform for finding Dental Hygiene jobs wherever one's heart desires. We are pleased to say that hundreds of hygienists are expressing interest in our services as we continue to grow."
About Dentallynx International
Dentlynx.com is designed as a simple, user-friendly job-board. However, they boast the addition of a Temp Availability Calendar, the likes of which is rare on other dental job boards. This availability calendar is useful for both job seekers and employers and serves well for short notice assignments. Otherwise, job seekers can search for and apply for most jobs found on the site and even save those jobs applied for, for future reference. There is the ability to set up alerts for job openings matching ones criteria. In addition, there is a resume database that employers may gain access to for a fee. Much of the international placement paperwork is done off-site, usually by contacting them via email at:
info@dentlynx.com
.
The first month of job posting is free for employers for a limited time. Beyond that, dentlynx.com boasts some of the most competitive fees in the market for employers and all services to job seekers are free. This includes searching for jobs, uploading resumes and submission of all necessary paperwork to complete the international file. Overall, it is a well rounded site and a step up from the average job board.
Email Dentallynx International, LLC