Learning Today Announces SmartTutor.com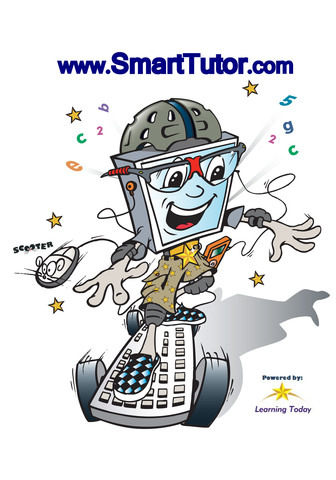 May 28, 2008 - Plantation, Florida – Learning Today, Inc., a Florida-based educational software publisher, announced today that its Smart Tutor Reading and Math program is now available direct to families for academic remediation and maintenance, or gifted placement at home. The award-winning (BESSIE, 2008) Smart Tutor program has only been available to students licensed by schools, school districts, or extended-day learning centers via
www.learningtoday.com
until today's release of the new consumer site,
www.SmartTutor.com.
SmartTutor.com is designed to help children maintain or improve their academic abilities and outcomes while giving parents an affordable alternative to today's tutoring options. Research shows that traditional tutoring services, including centers and private tutors, will cost American families billions of dollars annually. Additionally, SmartTutor.com will save parents hours of time researching the availability and credibility of local tutors, since the program is completely web-based and outside tutors and centers are not involved. The program is also a "green" way to tutor, since parents will not have to drive their children to/from tutoring centers nor will private tutors need to drive from student to student. This type of "Green Tutoring" can assist in decreasing energy-related emissions.
SmartTutor.com is a web-based, K-5th grade, reading and math tutoring system designed for home or homeschool use. In order to ensure that the program meets NCLB criteria, the assessment and curriculum are scientifically, research-based and aligned with state and national standards. The program has been used by hundreds of thousands of students since 2002 and has received independent third-party reviews from educational boards including FCRR.org (Florida Center for Reading Research) and SREB.org (Southern Regional Education Board).
"Devastating federal and state education budget cuts have left many schools and school districts unable to afford important supplemental materials for years to come," stated Robin Baker, the company's co-founder. "By releasing SmartTutor.com to families, parents now have an affordable way to supplement their children's education at home without incurring exorbitant tutoring expenses, in spite of these cuts."
Free reading and math assessments are a unique feature of SmartTutor.com. The company's Atlas Assessment uses state-of-the-art technology to efficiently analyze students' academic ability levels. These assessments automatically develop each student's individualized learning program so they can work at their own pace. The 14-day free trial includes the assessment results which parents may print and keep for their records. The company is also offering group discounts for large organizations or corporations. Some companies are offering SmartTutor.com as part of their soft benefits plans in order to improve recruitment, retention, and the work-life balance.
About Learning Today, Inc.
Headquartered in Plantation, Florida, Learning Today was established in 2000 to develop Smart Tutor, a web-based educational software program for Kindergarten through 5th grade students. Learning Today's primary goal is to research, develop, and deliver effective online reading and math assessment and interactive instructional content for students in order to support instruction and targeted intervention. Smart Tutor is scientifically research-based and developed by an expert team of curriculum writers, subject-matter experts, interface-designers, animators, quality-assurance specialists, and engineers. Smart Tutor supports students in need of academic remediation, maintenance, or advancement. Smart Tutor Reading and Math programs are available online at
www.LearningToday.com
for schools, school districts, and extended-day learning centers and at
www.SmartTutor.com
for home or homeschool use.
Media Contacts: Kathy Kallman, 954-584-5250,
Kathy@LearningToday.com
Email Learning Today, Inc.