GO DEEP: AESTHETIC VIDEOSOURCE PRESENTS "DEEP TISSUE MASSAGE THERAPY" DVD SERIES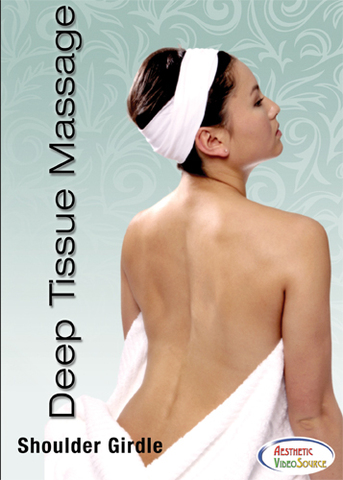 Salt Lake City, UT – Go deeper with deep tissue massage. Ideal for chronically tense and contracted areas, deep tissue massage is the therapist's answer to addressing deeper tissue structures of the muscle and fascia. Using some of the same strokes as classic massage therapy, deep tissue massage is more intense, specific work on areas of tension and pain to release muscles and adhesions, increase range of motion, reset muscle memory, and reduce primary and secondary distortions.
In Aesthetic VideoSource's indispensable new 3-part DVD series, "Deep Tissue Massage Therapy", expert massage therapist and instructor, Meade Steadman, demonstrates how to provide therapeutic deep tissue massage on the extremities, pelvic girdle, and shoulder girdle. Each DVD – Extremities, Pelvic Girdle, and Shoulder Girdle – includes demonstrations on the anterior and posterior.
With in-depth discussions of physiology and anatomy, Steadman walks you through routines for warming up, establishing client communication and trust, performing advanced massage and stretch techniques for specific areas and complaints, determining primary pain versus opposing distortion, balancing, and flushing toxins.
"Pelvic Girdle" includes the musculo-skeletal area of the iliac crest, sacro-iliac joint, and greater trochanter of the femur and surrounding nerves, arteries, tendons, ligaments, and musculature (retractors, elevators, and depressors). "Shoulder Girdle" covers the musculo-skeletal area of the spine, ribs and sternum, clavicle, scapula, humerus, and surrounding nerves, arteries, tendons, ligaments, and musculature.
"Deep tissue work is more intricate, detailed work," says Steadman. "It can be very intense work, but it can open up and allow for greater range of motion, releasing restrictions and adhesions that affect balance."
"This instructional DVD will enhance the work of even the most experienced therapists," says Shirley Erickson Gorospe, president of Aesthetic VideoSource. "From myofascial release to deep compression techniques, Meade covers it all in the clearly presented demonstrations."
Meade Steadman is a licensed massage therapist and instructor for the Myotherapy College of Utah and the Myotherapy Institute of Massage. He is also the featured expert in other instructional videos which have received many awards and accolades, including "Essentials of Swedish Massage", "The Art & Practice of Stone Massage", "Comprehensive Reflexology and Massage", and "Therapeutic Breast Massage".
Aesthetic VideoSource produces and distributes detailed, comprehensive health and spa instructional DVDs, so anyone – with or without prior experience – can properly perform the procedures shown. Aesthetic VideoSource is the forerunner in educational media distribution, with award-winning DVDs and an always-expanding list of offerings to meet the spa and beauty industry's needs.
Contact Info – Each video in the Deep Tissue Massage Therapy DVD series (Extremities: 2 Hrs. 9 Mins.; Pelvic Girdle: 1 Hr. 15 Mins.; and Shoulder Girdle: 1 Hr. 32 Mins.), can be ordered for $54.95 plus shipping, by calling 1-800-414-2434 or visiting
www.VideoShelf.com.
The complete set can be purchased for $132.00, at a savings of 20%.
Email Aesthetic VideoSource