Lifesize Entertainment to release sexy comedy Slippery Slope on dvd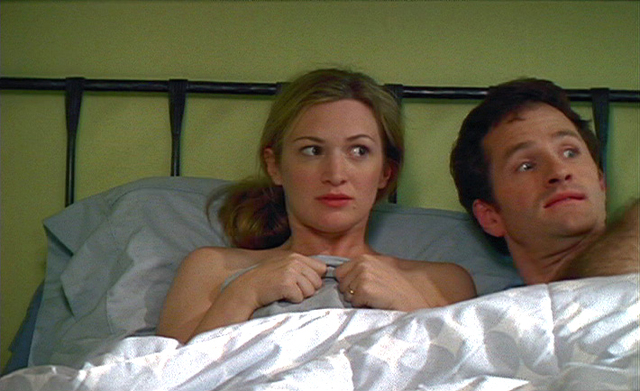 Sexual politics and humor go hand in hand with Slippery Slope, Lifesize Entertainment's upcoming dvd release starring: Laila Robins, Jim True-Frost and Kelly Hutchinson. Slippery Slope is a sexy, screwball comedy about the porn industry that has been earning the praise of feminists and film critics alike.
Feminist author Susan Faludi writes: "Slippery Slope is delightful!" Industry website Indiefilmchat.com calls Slippery Slope "Hilarious, sexy and smart!" and film fan site L.A.Splash.com calls the film "An entertaining labyrinth of misconceptions."
Movie and tv regulars Laila Robins (The Good Shepherd, Law & Order, etc), Jim True-Frost (The Wire, etc) and Kelly Hutchinson (Law & Order, etc) star in this sexy screwball comedy about a feminist filmmaker forced to direct a porn film in order to get her own politically charged "opus" out of the lab.
Directed by Sarah Schenck, Slippery Slope was an official selection at the Montreal International Film Festival. It also won Best Picture at the Los Angeles Broad Humor Film Festival. The dvd will be available on August 5th at a suggested retail price of $24.98. Extras include 5:1 sound, Deleted scenes, a behind the scenes documentary and director's commentary. French subtitles are also available on the dvd. More information can be found at
www.slipperyslopethemovie.com.
The trailer can be viewed at
www.slipperyslopethemovie.com/index1.html
Synopsis
When a cash strapped feminist filmmaker, Gillian (Kelly Hutchinson), meets a mysterious producer (Laila Robins), she secretly takes a job directing a porn film in order to get her master work, "Feminism For Dummies," out of the lab. Soon, her own slumbering sexuality is awakened in surprising ways. This arouses the suspicion of her politically correct husband, Hugh (Jim True-Frost) and leads to a madcap finale of mistaken identity that threatens to upend Gillian's best laid plans. Fresh, witty and wise, Slippery Slope is an unforgettable screwball comedy for our times.
Lifesize Entertainment is a full service North American Distribution Company and Worldwide Sales Agent for quality feature films and documentaries. For the past decade, the company has made its reputation by championing quality films both large and small in a very competitive marketplace. In 2004, LifeSize Entertainment created an in-house home video division, which continues to grow with monthly DVD releases. LifeSize DVDs are now exclusively distributed by Koch Entertainment. Current and upcoming theatrical titles include Cullen Hoback's documentary about live action role playing, "Monster Camp" and Anthony Grippa's adaptation of the award winning play "Running Funny."
Current and upcoming DVD titles include Emily Carpenter's drama, "Crystal River," starring Sean Patrick Flannery, and "Millions," the critically acclaimed documentary about lottery winners. Further information can be found at
www.lifesizeentertainment.com
Slippery Slope will be released on August 5, 2008 at a suggested retail price of $24.98. The film is not rated.
Email Lifesize Entertainment